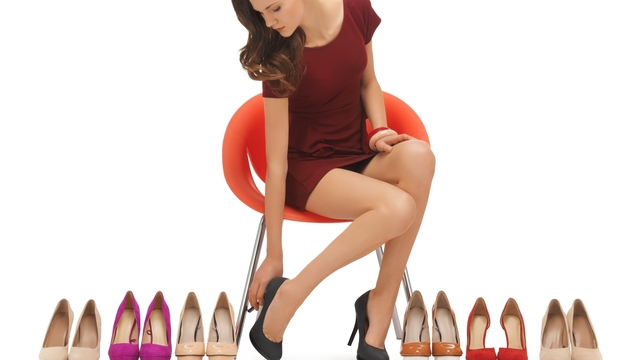 Lev Dolgachov/PhotoSpin
Many women love their heels. One in 10 women wear them at least three days a week but statistics show that wearing heels are a strong contributor to foot problems in almost 30 percent of women. Some of those problems can be permanent. (1)
Women who force their feet into spikey stilettos are forcing their toes into a very narrow space. This can lead to nerve damage from compression around the toes and bunions from pressure on the great toe.
Shoes that have heels higher than two inches allow the foot to slide forward. The body then tilts forward to compensate, making women arch their backs. This can cause strain on their knees, hips and lower back leading to pressure on nerves in the pelvis. Problems such as sciatica may develop.
Walking in high heels also changes your gait even when you are not wearing them if you typically wear heels much of the time.
A small Australian study discussed in the New York Times, evaluated a group of nine women who wore heels for 40 hours a week over a period of two years against a control group of 10 who rarely wore heels.
The scientists evaluated their walking pattern using electrodes to monitor their muscle activity. The women in high heels walked differently than the women who rarely wore heels, even when women in each group walked barefoot.
"The scientists found that heel wearers moved with shorter, more forceful strides than the control group, their feet perpetually in a flexed, toes-pointed position."
"As a result, the fibers in their calf muscles had shortened and they put much greater mechanical strain on their calf muscles than the control group did."
The researchers felt that the additional strain put on the calf muscles could lead to increased risk of injury.
Dr. Natalie Nevins, an osteopathic physician explained in an American Osteopathic Association article, "many women who wear high heels often suffer a shortening of the Achilles tendon. Stretching it again or switching to flats can be very painful; it can even lead to plantar fasciitis."
What can you do to avoid problems from wearing heels?
1) Choose heels of a sensible height.
Select heels that are not over one and a half inches high, that also have a wide base of support. Stiletto heels are not stable, and heels over 3 inches can shorten your Achilles tendon.
2) Pick shoes that are the correct size.
Don't try and shove your feet into shoes that are really too small so that you are unable to wiggle your toes. Work with a shoe store that has a knowledgeable shoe fitter who can measure you.
3) Alternate the shoes you wear.
Do not wear heels every day. Switch your shoes around so that the muscles in your hips, knees and back can move more naturally and your calves can relax and stretch out.
4) Stretch every day.
There are toe exercises and calf stretches that will help keep you feet and legs in shape. Crunch up a towel that is laying flat on the floor and try to use your toes to pick it up, or try and pick up a pencil with your toes.
Leaning towards a wall while pretending to push against it with one leg back can stretch your calf muscle. Make sure you do this on both legs so both calves are stretched.
Sources:
1) The Real Harm in High Heels. American Osteopathic Association. Retrieved Feb. 1, 2015.
http://www.osteopathic.org/osteopathic-health/about-your-health/health-c...
2) A Scientific Look at the Dangers of High Heels By GRETCHEN REYNOLDS. New York Times. Retrieved Feb. 1, 2015.
http://well.blogs.nytimes.com/2012/01/25/scientists-look-at-the-dangers-...
3) Cronin NJ et al. Long-term use of high-heeled shoes alters the neuromechanics of human walking. J Appl Physiol (1985). 2012 Mar;112(6):1054-8. Epub 2012 Jan 12.
Abtract. http://www.ncbi.nlm.nih.gov/pubmed/22241055
Michele is an R.N. freelance writer with a special interest in woman's healthcare and quality of care issues.
Edited by Jody Smith