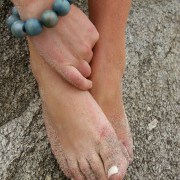 Photo: Getty Images
If you are feeling pain at the bottom of your heel, you may be suffering from plantar fasciitis (pronounced fashee-EYE-tiss). According to the American Academy of Orthopaedic Surgeons (AAOS) more than two million people are treated for plantar fasciitis annually. Also, the AAOS stated ʺplantar fasciitis is the most common cause of pain on the bottom of the heel.ʺ
Along the bottom of your foot is a ligament called the plantar fascia. The plantar fascia supports the arch of your foot and connects from the heel to the front of your foot. This ligament supports your weight and absorbs the pressure we put on our feet daily.
So, tonight after you take off your shoes and say ʺoh my aching feet,ʺ it may be the result of an inflamed or swollen plantar fascia.
According to the U.S. National Library of Medicine, those at risk for plantar fasciitis include:
• People who are overweight
• Those who may have suddenly gained weight
• People with flat feet and high arches
• Long-distance runners
• People who wear shoes with poor arch support or soft soles
• Tight Achilles tendon (the tendon connecting the calf muscles to the heel)
• Active men between 40-70 years of age
According to the AAOS and U.S. National Library of Medicine plantar fasciitis symptoms include:
• Pain and stiffness in the bottom of the heel
• The bottom of the foot may also ache or burn
• The heel pain may be dull or sharp.
• Pain with the first few steps after getting out of bed in the morning
• Pain after a long period of rest (such as after a long car ride)
• The pain subsides after a few minutes of walking
• Greater pain after (not during) exercise or activity
The pain is usually worse:
o When climbing stairs
o After intense activity
o In the morning when you take your first steps
o After standing or sitting for a while
Plantar fasciitis pain can last up to two years. But, most patients feel better after nine months of treatment. Remedies stated by the U.S. National Library of Medicine for plantar fasciitis include:
• Resting as much as possible for at least a week
• Apply ice to the painful area. Apply ice least twice for 10 - 15 minutes per day (more often in the first couple of days)
• Acetaminophen or ibuprofen to reduce pain and inflammation
• Heel stretching exercises
• Use night splints to stretch the injured fascia and allow it to heal
• Wearing shoes with good support and cushions
• Try wearing a heel cup, felt pads in the heel area, or shoe inserts
If your pain does not become better after trying at home care, contact your doctor. Your doctor may recommend steroid shots into the foot, a boot cast or custom sole inserts. Surgery is also a possibility.
References:
Plantar Fasciitis and Bone Spurs - Your Orthopaedic Connection - AAOS. AAOS - Your Orthopaedic Connection. Retrieved November 3, 2011, from http://orthoinfo.aaos.org/topic.cfm?topic=a00149.
Plantar fasciitis - PubMed Health. National Center for Biotechnology Information. Retrieved November 3, 2011, from http://www.ncbi.nlm.nih.gov/pubmedhealth/PMH0004438/.
Reviewed November 3, 2011
by Michele Blacksberg RN
Edited by Jody Smith