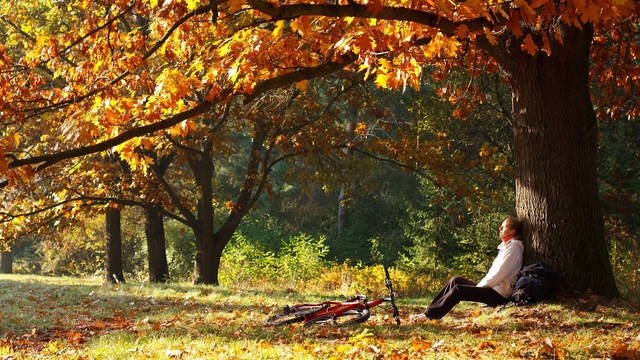 OLEKSANDR SHEVCHENKO/PhotoSpin
Autumn brings with it breathtaking panoramas of trees whose leaves have broken out into their vivid colors. Eventually, these same gorgeous leaves find their way to the ground. For many, autumn means hauling the rakes out of the garden sheds and getting busy.
Raking leaves can strain muscles that are not used to this kind of workout. Previously underutilized muscles being overworked, as well as using tools incorrectly all contribute to the problem. Keep in mind that your body isn't used to this activity and do it in small doses.
The U.S. Consumer Product Safety Commission said that in 2006, more than 76,000 people made their way to medical assistance e.g., at the ER, doctor's offices and clinics, after spending time raking leaves or doing other gardening activities.
This seasonal task can be more enjoyable or at least more bearable when some precautions are taken.
When you rake, don't twist your back instead shift your weight with your legs. And when you pick things up, bend from your knees rather than from your waist.
Try not to toss leaves behind or beside you to protect your back. Wearing gloves will protect your hands from blisters.
Treat yourself with a hot bath when you're done. This is not so much a luxury as a way to prevent some muscle pain later.
If you live in an area that still allows the burning of leaves, think twice about it.
Burning leaves produce fine dust, soot and other particulates that are dispersed via the air. The particulates can go deep into the lungs to produce chest pain, coughing, shortness of breath and wheezing, according to Wisconsin's Department of Natural Resources. Long term respiratory problems can also result.
Carbon monoxide is found in smoke from burning leaves, which can cause a reduction of oxygen in your lungs and blood. Benzo(a)pyrene, a chemical byproduct that is carcinogenic for animals and may be a factor in lung cancer, is also created.
Damp leaves can cause asthma, bronchitis, itchy eyes, headaches and runny noses in about 15 percent of the population who are prone to these types of allergic reactions, according to SIU Online. Young children, older adults and people who have asthma, lung disease or heart disease are especially vulnerable to these chemicals.
You can protect yourself by wearing a dust mask. Or you can make a point of doing your raking while the leaves are dry.
Rosie Lerner, a consumer horticulture specialist at Purdue University, urges everyone to compost leaves instead of burning them. Help the composting process along by adding grass trimmings and other green plant matter to your leaves.
According to Audobon At Home, dried leaves are great for feeding your soil and nourishing your trees and other plants. This is better for your lawn and other plants more than synthetic fertilizer.
You can just leave your leaves where they lie, as mulch, or if you don't want leaves lying around, just mow your lawn along with its leaf cover. You can also mulch by spreading a two or three inch layer of leaves around your trees and other plants, or on your gardens.
Be smart with your rake, and enjoy the beauty that is autumn.
Sources:
10 Health Tips for Autumn Leaves Clean-Up. Medicinenet.com. Retrieved Oct. 29, 2013.
http://www.medicinenet.com/script/main/art.asp?articlekey=54998
Autumn Leaves: Burning Fallen Leaves May Be Hazardous to Your Health. About.com. Retrieved Oct. 29, 2013.
http://environment.about.com/od/pollution/a/burning_leaves.htm
An Autumn Health Safety Reminder. CEHS.SIU.edu. Retrieved Oct. 29, 2013.
http://www.cehs.siu.edu/occupational_health/fact_sheets/autumnhealth.html
Autumn Leaves: Let Them Be. Audobon.org. Retrieved Oct. 29, 2013.
http://athome.audubon.org/autumn-leaves-let-them-be
Visit Jody's website at http://www.ncubator.ca
Reviewed October 30, 2013
by Michele Blacksberg RN