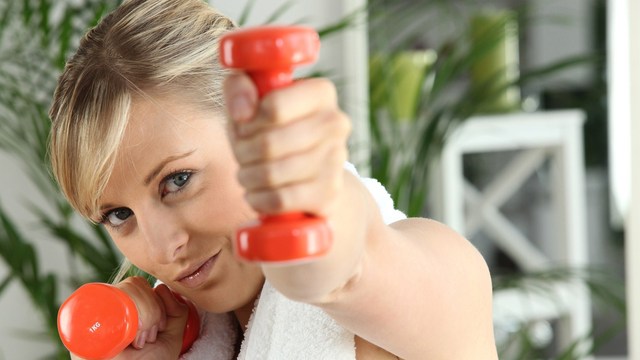 Auremar/PhotoSpin
What is your BURNING DESIRE? Do you have one? I do and you already know what it is. My burning desire is to help women with their health and wellness. Why am I thinking about my BURNING DESIRE? Because it's the subject of the first chapter in my dear friend and mentor Sharon Lechter's new book "Think and Grow Rich for Women."
As you can probably tell from the title, Sharon's focus is primarily on finances and how women are finally starting to come into their own in the business world. Sharon defines a burning desire like this:
"When you find yourself wanting to do something, or achieve something, to change something or become something so badly that you can think of little else, you are in a state of BURNING DESIRE."
Boy, does that describe me to a tee! I can't wait to wake up in the morning because my company EmpowHER is changing, saving and improving women's lives every day. Now that's a reason to wake up, bounce out of bed, get dressed and show up!
I'm proud to say my story has a place in chapter 12 of Sharon's book. I am also thrilled that there is finally a book focused on women's success that acknowledges the vital role that health plays in realizing our most powerful selves.
Sharon talks about how women are making progress in the business world. Women are breaking through the glass ceiling, sitting in the corner office and holding seats on major boards. That is undeniably a good thing. But I join Sharon's acknowledgement that women need to focus more on their own health, and that it will serve them in the pursuit of their own BURNING DESIRE!
We women have a tendency to sacrifice our own personal well-being. We put ourselves last in our desire to make an impact and serve others. It's time for us to take better care of ourselves and time to demand better than a failing health system.
You heard me right. We are failing, and failing fast. The Commonwealth Fund ranked the United States 11th out of the 11 countries it studied for health care system performance. The news is even worse if you look at reports from the World Health Organization (WHO). In the latest survey released in 2000, the U.S. health system ranked 37th overall out of 191 member nations.
For a nation that thinks it is number one in everything, that is a pitiful score! It just goes to show that we are not "all that" when it comes to health care! And if our overall score is only 37th, we know the score for women's health care must be even worse because we know women's health care is not adequate.
Here's one thing I'm sure of. If I don't talk about it, it's never going to change. And that's where Sharon's book can help me. It combines the wisdom of Napoleon Hill's original book "Think and Grow Rich" with Sharon's real-life examples and celebrations of successful women. I know it has inspired me to try to do even more.
Sharon describes her own journey like this: "I understood that if I wanted to make a difference, and help people, I could give more if I earned more."
So of course, I would love to use Sharon's book to learn how to make 100's of millions or billions of dollars. But it's not about the money. That's just a means to the end to help me achieve my BURNING DESIRE. Because the more I win, the more women win through improved health and wellness.
Financial success for EmpowHER means we are impacting women's lives in a positive way. It also means they are sharing EmpowHER with other women because they have found it to be invaluable for them.
I hope you can see that it is time to take charge of your health and fight back. For the sake of your health and the health of your family, you need to have a voice and you need to use it.
So I'm asking you to pick up the book and read it. But even more, I'm asking you to help me achieve my BURNING DESIRE. Join your voice with mine to let the legislators and researchers and medical community know that we women want better and we deserve better when it comes to our health!
Now is the time to take action. Working together, we can move women's health care from Chapter 12 in the world's awareness to where I believe it belongs – front and center in Chapter One.
Sources:
The Commonwealth Fund. Mirror, Mirror on the Wall, 2014 Update: How the U.S. Health Care System Compares Internationally. Web. June 25, 2014.
http://www.commonwealthfund.org/publications/fund-reports/2014/jun/mirro...
World Health Organization. World Health Organization Assesses the World's Health Systems. Web. June 25, 2014.
http://www.who.int/whr/2000/media_centre/press_release/en/