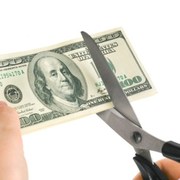 Photo: Getty Images
Recent research, which took place over a period of 14 years and utilized two irrefutable government sources for its statistical information, was presented at the 2011 annual meeting of The American Society of Clinical Oncology.
This research used both the cancer registry statistics as well as the U.S. bankruptcy court records and involved nearly a quarter of a million cancer survivors.
The results: that bankruptcy rates among cancer survivors at one year after diagnosis was nearly twice as high as that of the general population. On average, bankruptcy rates increased four-fold within the five year period after diagnosis.
The average percentage of those with cancer having to file bankrutpcy was 8 percent, when compared to the general population in which the average bankruptcy filing percentage is 0.28. This is obviously a huge difference and one that cannot be ignored.
The U.S. bankruptcy laws changed dramatically in 2005 making it more difficult for an individual to file for bankruptcy. The filing of a bankruptcy was an action which was intended to give an individual a "clean slate" however when it comes to cancer survivors it is anything but.
Based upon this research, cancer patients who have struggled through horrific treatments in order to survive now face yet more stress and hardship from a financial standpoint. Is it reasonable to penalize cancer survivors simply for having survived? Yet this is exactly what happens when a cancer survivor must file bankruptcy.
Federal and state programs (First Time Homebuyer Assistance) which exist to assist lower-income families in obtaining a home, by providing funds for downpayments as well as closing costs, stipulate that a bankruptcy must have been discharged (finalized by the bankruptcy court and all debts absolved) a full two years before an individual can even submit an application for assistance.
There are many financial hardships which cancer patients/survivors endure, one of which may be the loss of their jobs and their homes. The First Time Homebuyer Assistance Program mentioned above will provide assistance to first-time home buyers, which also includes those who have not owned a home in three years. A cancer survivor who has lost their home resulting from their medical expenses three or more years ago would also be eligible.
However, it is more than likely that they also may have had to file bankruptcy and therefore simply cannot catch a break. The approval guidelines for the Homebuyer Assistance program require that they cannot file an application until two years after their bankruptcy discharge date.
Since every application is taken in order of submission, people are placed on a waiting list until their application is approved. Based on these requirements, they would not even be allowed to submit their applications for a loan and allow their time on the waiting list to be applied to the necessary two-year period.
They must wait two years to submit their applications and then wait yet again on a waiting list. Funds are limited and depending upon how many applications are received their application may extend into the following fiscal year.
Being a two-time survivor of cancer I can say that while it isn't something which occupies my thoughts on any regular basis, there always exists in the back of my mind the possibility of a recurrence. I think it is safe to say that this is true for most cancer survivors on some level.
The longer a cancer patient survives after treatment the greater the likelihood that they will end up having to file bankruptcy. Out-of-pocket expenses associated with follow-up testing, follow-up doctor visits and prescriptions amongst other things continue to place a financial burden on survivors.
If there was ever a need for a true "clean slate" it is for the cancer survivor, and given this recent research, bankruptcy laws should be amended for those having to file as a result of cancer. Bankruptcy filings resulting from cancer should not be allowed to be included on the individual's credit report and all associated discharged accounts should be removed as well.
This would truly provide the cancer survivor with a "clean slate" from which to live out the rest of their lives. Congress needs to amend the bankruptcy laws to provide such protection for cancer survivors.
As regarding the First Time Homebuyer Assistance Program referred to earlier, these survivors would no longer be penalized when it comes to receiving funds for a home. Losing one's home is a devastating event for anyone but even more so for a cancer survivor who has often lost their job as well and in some cases are unable to return to work as a result of complications of their treatment.
This often leaves them having to rely on Social Security Disability. They may still be able to afford a small mortgage payment but the existence of a bankruptcy will prevent them from qualifying for one, especially in the current banking climate when even those with good credit have difficulty.
Even the thought of a cancer diagnosis is something which strikes fear in the hearts of most people. For those who have lived it, the diagnosis is nothing compared to what they must endure in their struggle to survive. This research makes clear for the first time the severity of the financial fall-out for cancer survivors compared to the general population as it relates to bankruptcy.
It also speaks to the need for change in our bankruptcy laws which respect what these individuals have had to endure to survive and compassion to allow them to continue the lives they struggled to keep without further discrimination and hardship.
Sources:
"Bankruptcy Rates Higher Among Cancer Survivors." ConsumerAffairs.com: Knowledge is Power! Consumer news, reviews, complaints, resources, safety recalls. N.p., n.d. Web. 2 Jan. 2012. http://www.consumeraffairs.com/news04/2011/06/bankruptcy-rates-higher-among-cancer-survivors.html
"Part 1: When staying alive means going bankrupt - US news - Gut Check - msnbc.com." msnbc.com - Breaking news, science and tech news, world news, US news, local news- msnbc.com. N.p., n.d. Web. 2 Jan. 2012. http://www.msnbc.msn.com/id/20201807/ns/us_news-gut_check/t/when-staying-alive-means-going-bankrupt
" The hidden cost of survival: Study finds bankruptcy rates among cancer patients increase along with survival time ." Fred Hutchinson Cancer Research Center. N.p., n.d. Web. 2 Jan. 2012.
http://www.fhcrc.org/about/ne/news/2011/06/06/the_hidden_cost_of_survival.html
SHIP Purchase Assistance Program, First Time Homebuyer Assistance, http://www.seminolecountyfl.gov/comsrvs/pdf/SHIPPurchaseAssistanceManual.pdf (page 17)
Reviewed January 3, 2012
by Michele Blacksberg RN
Edited by Jody Smith
Tags: