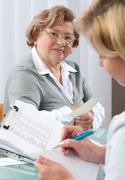 A new medical study published in the journal Cancer Epidemiology, Biomarkers and Prevention has found that talcum powder increased cases of uterine cancer by 24%.
Talcum powder (talc) is a common household cosmetic used to dry off skin after bathing and keep people smelling fresh. It is even used on babies bottoms after diaper changing and is part of the hygiene routine of nearly half of all women in the US.
Talc is made from a magnesium silicate mineral that is similar in its properties to asbestos. Both asbestos and talc form tiny shards and can break off and imbed into parts of the body. If it is inhaled, these tiny particles can imbed into the lungs and cause respiratory difficulties. In animal tests it was shown to cause tumors after the animals had been forced to inhale it.
The latest study looked at the health of 66,028 female nurses between the years of 1982 and 2004 and found 599 cases of endometrial cancer in that time. The women's personal hygiene routines were studied and it was found that women who had ever used talcum powder on the genital area in their lifetime increased their risk of uterine cancer by 21% compared with women who never used it. Those women who used it at least once a week increased their risk by 24% and the risk increased the more frequently the product was used. This association was particularly strong among post-menopausal women.
The study authors wrote:
'Several studies have reported a positive association between perineal use of talcum powder among adult women and ovarian cancer risk. Our results suggest that perineal talcum powder use increases the risk of endometrial cancer, particularly among postmenopausal women.'
Talcum powder used on the genital area can travel up the vagina and imbed itself into the pelvis. Another recent research paper found that daily use of talc increased a woman's chance of ovarian cancer by 41% and an old 1970's paper found talc particles in 75% of ovarian tumors that they treated.
Some medical professionals have advised women to stop using talc, whereas cancer charities say the link is not proven and if women carry on using talc 'very few' will get uterine cancer. Erring on the side of caution would be the more sensible approach, given the nearly 40 year history of studies into talc that show harm.
Sources: http://cebp.aacrjournals.org/content/19/5/1269.abstract
http://www.ntp.niehs.nih.gov/?objectid=0709BB4D-D4A2-78A0-F519C6ABAF22CDC1
http://www.ncbi.nlm.nih.gov/pubmed/5558843
http://www.ncbi.nlm.nih.gov/pubmed/1603491
http://cebp.aacrjournals.org/content/17/9/2436.abstract
Joanna is a freelance health writer for The Mother magazine and Suite 101 with a column on infertility, http://infertility.suite101.com/. She is author of the book, 'Breast Milk: A Natural Immunisation,' and co-author of an educational resource on disabled parenting, in addition to running a charity for people damaged by vaccines or medical mistakes.
Tags: