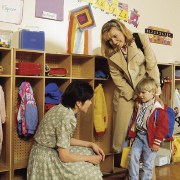 Photo: Getty Images
If you are a parent of a child with Tourette syndrome (TS) you know that your student may have hurdles to overcome as he or she goes through the school day. Additionally, that child deserves a teacher who is patient, calm, and will motivate your child to his or her potential despite the difficulties posed by this syndrome.
According to the National Institute for Neurological Disorders, TS is believed to be a genetic condition involving the message receptors in the brain. Symptoms include multiple motor and verbal tics that often increase during stressful situations.
These tics can include rapid eye blinking, repetitive throat clearing, or in extreme cases, uttering profanity or echoing the words of others. Often a child diagnosed with TS may also experience attention deficit hyperactivity disorder or obsessive-compulsive disorder.
In my experience as a teacher, a child with TS can function well in the regular classroom setting with some specific accommodations. My classroom includes a study space that a student with TS can relocate to as needed. If tics or other symptoms begin to interfere with writing, I allow the student to complete class work or assessments, verbally.
Be upfront with your child's teacher and suggest any strategies that have worked well for your child in the past. When considering class placement, request a teacher who is calm, compassionate, and understanding.
A sense of humor goes a long way, too. One afternoon, I literally heard the last three words of every single sentence I uttered.
The National Tourette Syndrome Association reminds parents to be prepared, positive, and ready to educate when meeting with a child's teacher. If this is the first time a teacher has met a child with TS, he or she will benefit from any words of wisdom or explanation you can provide on the subject. Helpful, frequent, and honest communication throughout the school year will mean a positive school experience for the child with TS.
Sources:
National Institute for Neurological Disorders. Tourette Syndrome Fact Sheet. Web. 3, Oct. 2011. http://www.ninds.nih.gov/disorders/tourette/detail_tourette.htm
National Institute for Neurological Disorders. Tips for School Meetings. Web. 3, Oct. 2011. http://www.tsa-usa.org/aeduc_advoc/tips_for_school_meetings.htm
Reviewed October 4, 2011
by Michele Blacksberg RN
Edited by Jody Smith
Tags: