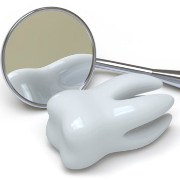 Photo: Getty Images
Growing up with three rough and tumble older brothers, I often heard my mother's voice say, "It's funny until someone puts an eye out!"
One afternoon my eldest brother responded, "Well, what happens if a tooth comes out?"
While a lost baby tooth is cause for celebration, a knocked out or chipped permanent tooth can lead to some very expensive dentistry. In fact, losing a permanent tooth is considered a dental emergency.
When a permanent tooth is chipped or broken, the American Academy of Pediatric Dentistry reminds us that quick action can save the tooth and reduce the chance of infection. Try to locate any chipped or broken pieces of the damaged tooth and place them in cold milk to take with you to the dentist office.
Ask your child to rinse his or her mouth with lukewarm water. Hold a cold compress against the piece of tooth still in the gum line and notify the dentist immediately.
When a permanent tooth is completely knocked out of a child's mouth, the Mayo Clinic makes the following recommendations:
• Handle the tooth by the crown and not the roots.
• If the injured child is old enough or not in too much distress, you can instruct him or her to place it carefully back in the socket and gently bite down to hold it in place while driving to the dentist or emergency room.
• If the tooth can't be reinserted, bathe it in saline solution or milk to preserve it. Avoid tap water since the chlorine can damage the tooth.
• If a milk or saline bath is not available, place the tooth in a small container or zip-lock baggie and cover it with your own or the child's saliva.
• Trying to clean the tooth is not necessary and can cause damage.
• Call to notify your dentist or visit an emergency room. Many now offer dental services for children.
Sources:
Tooth Loss: First Aid. Mayo Clinic. Web. 21, Sept. 2011.
http://www.mayoclinic.com/health/first-aid-tooth-loss/FA00015
What if a Tooth is Chipped or Fractured? American Academy of Pediatric Dentistry. Web. 21, Sept. 2011.
http://www.aapd.org/publications/brochures/ecare.asp
Reviewed September 27, 2011
by Michele Blackberg RN
Edited by Jody Smith