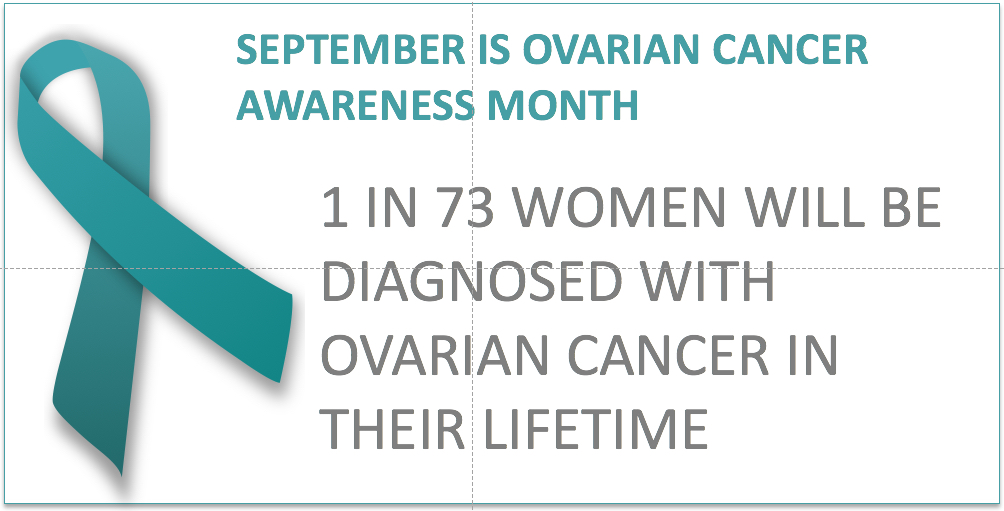 Ovarian cancer ranks as one of the most common cancer threats, and it is the fifth most deadly. More than 21,980 women are diagnosed with ovarian cancer each year, and more than 14,000 die annually. [1] Proactive diagnosis and treatment, however, greatly improve the odds because 93 percent of women survive five years or longer if the cancer is detected and treated during the early stages.
That's why raising awareness of ovarian cancer is so important. President Obama designated the awareness event in 2016. [2] OvarianCancerAwareness.org was founded in 2000 to raise awareness and includes a who's who of cancer-fighting organizations, physicians, medical professionals and community activists dedicated to the fight against cancer. During September, local organizations and individuals can work together to reinforce cancer awareness and help to prevent unnecessary suffering and deaths.
Facts About Ovarian Cancer You Should Know
Most women develop ovarian cancer during their fifties and sixties at the median age of 63. Many patients have a genetic predisposition for ovarian cancer, which is caused by a mutation of the BRCA gene. If the women in your family history have had ovarian cancer, your risk increases. Other key risk factors for getting ovarian cancer include: [3]
• Women who experience uninterrupted ovulation due to fertility treatments and have never been pregnant
• Using excessive talcum powder in the genital area
• Women who have early onset of their periods or had a late menopause
• Smoking, which seems to lead to mucinous ovarian cancer
Unfortunately, there are several different kinds of cancer under the umbrella term "ovarian cancer." The risks are for a diverse group of cancers, each of which has its own prognosis based on the cancer's molecular characteristics. Your treatment options are also affected by other conditions you might have such as diabetes or cardiovascular problems. [3] Fortunately, treatment options are advancing all the time. Immunotherapy is one promising treatment, and preventative surgery can help. That involves removing the ovaries and fallopian tubes of women with a high risk of developing ovarian cancer such as those in several risk categories.
Ovarian Cancer Symptoms
Most ovarian cancer doesn't get diagnosed until the condition has advanced and the cancer spread, which is why it's so dangerous. Women who have actually developed ovarian cancer have consistently mentioned the following eight early symptoms: [4]
1. Bleeding more often than usual such as every two weeks instead of monthly
2. Bloating that won't go away
3. Feeling full after eating only a little
4. Experiencing cramps even when not menstruating
5. Developing unexplained back pain
6. Breathing problems
7. Getting an upset stomach or frequent heartburn
8. Needing to urinate more often
These early symptoms could be ovarian cancer signs that help women to detect ovarian cancer early. However, the medically accepted ovarian cancer symptoms include the following: [5]
• Changes in your appetite
• Abdominal bloating, nausea and/or indigestion
• Changes in bowel movements
• Frequent need to urinate
• Constipation
• Low energy levels
• Abnormal menstruation
• Increases in abdominal girth
Sometimes ovarian cancer signs can be confused with symptoms of ovarian cysts, masses or tumors. The symptoms of these developments include pelvic pain, pressure or swelling in the abdominal region, nausea, vomiting, sexual pain and difficulty emptying your bladder.
Raising Ovarian Cancer Awareness
One of the most effective ways to prevent any type of cancer is raise awareness so that people recognize the early signs and seek treatment. Ovarian cancer is very treatable before it spreads. Some of the ways people and groups can raise awareness during September and the rest of the year include:
Sponsor Community-service Television Spots
• Sponsor Community-service Television Spots Through charitable funding or local public service, groups can request that local stations air television commercials to raise awareness.
Work with Local Agencies and Businesses to Post Information
• Work with Local Agencies and Businesses to Post Information Some of the possibilities for raising awareness include posting messages on traditional billboards, bus benches, and electronic billboards. Many online companies and websites will also post press releases about ovarian cancer. You can blog about the topic and express your views in online forums.
Host Local Meetings Featuring Expert Speakers
• Host Local Meetings Featuring Expert Speakers It's easy to arrange an informal or formal presentation at a local school, church or neighborhood venue to raise cancer awareness. Finding a speaker on the topic just takes a little research to find a cancer survivor or a supportive physician or educator. You can also contact cancer groups in your area to see if they could recommend someone to speak at your group event.
Arrange Cancer-fighting Fundraisers
• Arrange Cancer-fighting Fundraisers Local organizations can easily approach area businesses and restaurants to co-sponsor awareness fundraisers by pledging a percentage of sales during the month of September or other designated time.
Participate in a Local Event to Raise Awareness
• Participate in a Local Event to Raise Awareness All over the United States, people are hosting events, fundraisers and meetings to raise ovarian cancer awareness. It's easy to join one of these events by searching online to find something within your area. You can walk a marathon, purchase a special memento of the occasion, donate to a cancer-fighting charity or run a 5K to sweat for a cure.
Throw a Fundraising Event
• Throw a Fundraising Event You can use your creativity and personal preferences to throw a fundraiser in your area that will really raise awareness. The possibilities include sporting events, charity dinners, art auctions, wine tastings, talent shows, fashion shows and more--the sky's the limit.
Raising awareness is one of the most effective ways to prevent ovarian cancer. Join together in September and the rest of the year to fight the disease with education and financial support.
Article Sources
[1] https://www.ovariancancerawareness.org/
[2] https://obamawhitehouse.archives.gov/the-press-office/2013/08/30/presidential-proclamation-national-ovarian-cancer-awareness-month-2013
[3] https://www.everydayhealth.com/news/essential-facts-about-ovarian-cancer/
[4] https://www.health.com/ovarian-cancer/early-signs-ovarian-cancer#02-bleeding-ovarian-cancer
[5] https://www.cancercenter.com/ovarian-cancer/symptoms/
Tags: