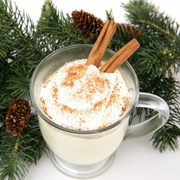 iStockphoto/Thinkstock
Visions of sugar plums, candy canes, cakes, cookies and pies are all holiday indulgences leading us to pack on the pounds. However, if we merely dabble in self-control it can make a difference.
The Cleveland Clinic says, "Controlling even the slightest chance of coming in contact with 'tempting' foods is one way to effectively reduce your intake. While you won't be able to control all situations, focus on the many ones you can."
One of my favorite ways to control calories is to swap out some of the ingredients in my favorite treats and still satisfy my festive sweet tooth. Let's start with a traditional way to toast the holiday, egg nog.
Health.com warns to avoid egg nog, saying just "one cup has 343 calories, 150 milligrams of cholesterol, half of the USDA's suggested daily limit, and 21 grams of sugar, almost a day's worth."
Instead, I have a great recipe for what I like to call FAKE NOG:
½ Gallon of unsweetened vanilla almond milk
¼ Cup of ice
1 tsp. of vanilla extract
1 tbsp. of agave nectar
Mix milk, vanilla agave and ice in bleeder, pour into glasses and sprinkle with cinnamon and nutmeg. (Serves 8)
While you may think it is funny that your great-aunt always brings you a fruit cake, this confectionary concoction is no joke. Health.com also warns against fruit cake.
"Don't let the name deceive you. Though this sweet treat contains fruit, it can also have plenty of butter, sugar, and corn syrup. One slice we tried clocks in at 410 calories and 13 grams of fat."
To avoid added sugar, try this alternative to fruit cake, with added protein, too:
FRUITY MAC N' CHEESE
(Fruit, Macadamia nuts, cottage cheese)
1 Cup of Cottage Cheese
¼ Cup of Fresh Blueberries
¼ Cup of fresh peaches, diced
¼ Cup of fresh raspberries
4 macadamia nuts, chopped
(Mix all ingredients together. Sweeten with stevia powder)
The abundance of pumpkins lingers from Thanksgiving to Christmas. Cheesecake is also a holiday favorite.
Combine the two flavors and swap both out for my Pumpkin Cheesecake Dessert Cups:
½ Pkg. of sugar free vanilla pudding
1 cup of almond milk
2 tbsp. of canned pumpkin
1 Scoop of vanilla whey protein powder
2 tbsp. of light whipped cream cheese
4 tbsp. of light whipped topping
4 tbsp. of graham cracker crumbs
2 Packets of stevia sugar substitute
Mix pudding, milk, pumpkin and whey, and 1 packet of sugar substitute, set aside.
In separate bowl, mix cream cheese, whipped topping and 1 packet of sugar substitute. Fill two dessert cups with alternating layers of pudding mixture, graham cracker crumbs and cheese mixture. (Serves 2)
But, if apple or pecan pie catches your eye, savor both flavors with this Apple Pecan Alamode:
1 Apple cut into wedges
¾ Cup of cottage cheese
½ Cup of Greek yogurt
1 teaspoon of raisins
4 teaspoons of crushed pecans
Pinch of Nutmeg
Pinch of Cinnamon
Microwave apples and raisins for 4 minutes.
In a small mixing bowl combine yogurt, cottage cheese, whey, nutmeg and cinnamon. Place cooked apple and raisins on top of mixture and sprinkle with pecans.
Sources:
"8 Steps to Surviving Holiday Weight Gain - ClevelandClinic.org." The Cleveland Clinic. Web 28 Nov. 2012.
http://my.clevelandclinic.org/heart/prevention/nutrition/holidayeating12_01.aspx
"50 Holiday Foods You Shouldn't Eat – Health.com." Health Magazine. Web 28 Nov. 2012.
http://www.health.com/health/gallery/0,,20440821_4,00.html
http://www.health.com/health/gallery/0,,20440821_8,00.html
Joanne Sgro-Killworth is a Television Fitness Expert, Certified Personal Trainer and Sport Nutritionist. She is Certified in Pilates, Pre-natal/Post-Partum, Yoga and Senior Fitness. She specializes in Weight Loss, Post-Rehab and Post Cancer Training.
Joanne's fitness plans and recipes are available globally on her website www.fitnessanswer.com. She resides in the Phoenix, AZ area with her husband and son, where she runs her personal training business, Fitness Answer, LLC.
Reviewed November 28, 2012
by Michele Blacksberg RN
Edited by Jody Smith