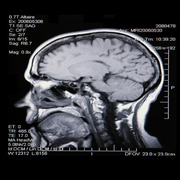 Photo: Getty Images
The National Institute of Neurological Disorders and Stroke (NINDS) estimated that each week in the United States, 200 people are diagnosed with multiple sclerosis. An autoimmune disorder, multiple sclerosis affects the central nervous system—the brain and spinal cord. In the central nervous system, glial cells, oligodendrocytes, make up the myelin sheath that covers the axon of the neuron. In multiple sclerosis, the immune system attacks this myelin sheath, damaging it and leading the problems with neurological communication. The myelin sheath in the peripheral nervous system, which consists of the nerves outside of the brain and spinal cord, remain intact in multiple sclerosis patients, as this myelin is made from a different type of glial cell (Schwann cells).
The symptoms that a multiple sclerosis patient has depends on where in the brain the lesions occur. MedlinePlus noted that prognosis is better for multiple sclerosis patients who are female, have infrequent attacks, were younger than age 30 at the onset of the disorder, have relapsing-remitting multiple sclerosis, or have limited disease as indicated by a brain scan.
Complications are possible in multiple sclerosis. One issue that multiple sclerosis patients may develop is osteoporosis, which is a thinning of the bone tissue. Patients with osteoporosis may experience bone pain, neck pain, stooped posture, fractures or a loss of height. Doctors may recommend taking vitamin D and calcium supplements. Vitamin D supplements may provide a benefit with multiple sclerosis itself. Multiple sclerosis rates are higher in areas further away from the equator—five times more frequent in temperate climates, according to the NINDS—suggesting that vitamin D may play a protective role. The University of Medicine and Dentistry of New Jersey's Healthful Life Project looked at a 2004 study on multiple sclerosis and vitamin D published in Neurology. In the review, the authors noted the results were inconclusive; while this study found some results, a study published in 2001 written by the same authors did not find that multivitamins had a protective role in multiple sclerosis.
Multiple sclerosis patients with bladder symptoms may have urinary tract infections as a complication. Patients can have the infection in the urethra, ureters, kidneys or bladder. Some multiple sclerosis patients may develop pressure sores. MedlinePlus listed being in a wheelchair, having bowel or urinary incontinence, or not being able to move a part of the body as risk factors. Multiple sclerosis patients who suffer from urinary incontinence may require a urinary catheter, which drains the bladder.
Multiple sclerosis patients with more severe disability may have difficulty caring for themselves. Some patients may need a caregiver. The Cleveland Clinic provides a list of resources for caregivers on their website.
References
National Institute of Neurological Disorders and Stroke: Multiple Sclerosis: Hope Through Research
http://www.ninds.nih.gov/disorders/multiple_sclerosis/detail_multiple_sclerosis.htm
MedlinePlus Medical Encyclopedia: Multiple Sclerosis
http://www.nlm.nih.gov/medlineplus/ency/article/000737.htm
MedlinePlus Medical Encyclopedia: Osteoporosis
http://www.nlm.nih.gov/medlineplus/ency/article/000360.htm
University of Medicine and Dentistry of New Jersey: Can Vitamin D Prevent Multiple Sclerosis?
http://njms2.umdnj.edu/hwmedweb/archives/vitamin02_archive.htm
MedlinePlus Medical Encyclopedia: Urinary Tract Infection – Adults
http://www.nlm.nih.gov/medlineplus/ency/article/000521.htm
MedlinePlus Medical Encyclopedia: Pressure Ulcer
http://www.nlm.nih.gov/medlineplus/ency/article/007071.htm