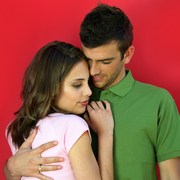 Auremar/PhotoSpin
Whether you despised or cherished your first sexual experience, it is still lingering in your mind and imprinted in your memories, probably for the rest of your life.
And some researchers are now suggesting that your "loss of virginity" is not just a mere memory. It could actually affect your current sexual experiences as well.
According to a study in the Journal of Sex and Marital Therapy, people who have "more positive first-time sexual experiences (e.g., intimacy, respect) report greater feelings of sexual satisfaction and esteem and less sexual depression."
These results suggest that positive first-time sexual experiences could lead to increased physical and emotional satisfaction later in life.
An article in Medical Xpress about the study added that people who experienced more anxiety and negative emotions during their first sexual experience reported lower sexual satisfaction.
One researcher, Matthew Shaffer, stated in the article that he has an explanation for the study results.
Potentially after a first-time sexual experience, people may begin to have a set way of thinking about sex, and have certain expectations and feelings about sex, and act accordingly throughout life.
Experts ponder the results of the study, and how they might affect women who do not have fond "loss of virginity" memories.
Robert Weiss, a licensed clinical social worker, Director of Intimacy and Sexual Disorders Services at The Ranch and Promises Treatment Centers, as well as Founding Director of The Sexual Recovery Institute, said in an email that he thinks the results are consistent with what he observes as a sexual disorders clinician.
"Significant early sexual experiences do seem to become part of the ongoing sexual pattern for many people," Weiss said.
There could be a better explanation for the results of the study, though.
"It is possible that individuals with underlying psychological issues — depression, anxiety, low self-esteem, attachment disorders, unresolved trauma, and the like — are more likely to have an unfulfilling first sexual experience because of those underlying issues, and those same underlying issues may continue to affect sexual satisfaction as they grow older," Weiss added.
People who are "emotionally healthy" would probably have a better chance of a satisfying first-time sexual experience, and are more likely to have future positive sexual experiences as well.
He said for women who had an extremely negative first-time sexual experience, such as molestation or rape, emotional wounds could linger and affect remaining sexual experiences and overall life experiences, if the past trauma is not addressed.
"Post-traumatic stress disorder (PTSD) is a very real diagnosis with oftentimes severe manifestations that significantly and negatively impact an individual's life," Weiss added. "Even if the trauma is not so deep as to cause PTSD, if unaddressed and unresolved, the wound can cause the individual to continually struggle with both sexual and emotional attachment and intimacy."
For women who may have had an unfulfilling first-time sexual experience that set a pattern of negative sexual experiences throughout the years, there is still hope.
Weiss said that sexual disorder treatment specialists work with clients to figure out which negative behaviors, places and people should be eliminated from the life of the client in order to get on track toward healthy and fulfilling sexual experiences.
"Once the negative behaviors are eliminated, a more traditional therapeutic approach that deals with the client's underlying psychological issues can be implemented," Weiss said.
"Over time, individuals committed to healing typically learn to enjoy sex in ways they never even dreamed about before."
Christine Laplante, a mental health counselor and sex educator, said in an email that attitudes about sexuality and sexual behaviors (such as sexual experiences with oneself) start before the first sexual act (most likely in childhood), so loss of virginity is not necessarily the cause of satisfactory or unsatisfactory remaining sexual experiences.
"Our first sexual experiences (which we don't really remember because it is part of our developmental stages at an early age) and the reactions of the adults around us affect the 'tapes' played in our heads about what is right and wrong sexually," she said.
For women who are currently dissatisfied with their sex lives, she suggests a journey of sexual, physical and emotional self-exploration. It's important to know your body well so sexual satisfaction is in your own hands.
"It aids in communication with a lover when you know your body," Laplante said. "We don't start off learning instruments by playing duets, yet we treat sex as if we need to begin at an advanced level."
Sources:
Smith, CV and Shaffer, MJ. The Journal of Sex and Marital Therapy. Gone but not forgotten: virginity loss and current sexual satisfaction. Web. Jan. 30, 2013.
http://www.ncbi.nlm.nih.gov/pubmed/23252636
Medical Xpress. Researcher finds 'first time' could predict sexual satisfaction. Web. Jan. 30, 2013.
http://medicalxpress.com/news/2013-01-sexual-satisfaction.html
Weiss, Robert. Email interview. Jan. 30, 2013.
Laplante, Christine. Email interview. Jan. 30, 2013.
Reviewed January 31, 2013
by Michele Blacksberg RN
Edited by Jody Smith