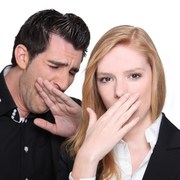 Auremar/PhotoSpin
I remember being in a psychology class in college and being warned (quite seriously) by the professor to never yawn in his class.
He found it insulting, irritating and said it caused others to start it too -- that it was actually contagious.
I sat high up in the auditorium (my usual spot in college anyway) to make sure if I did yawn, I didn't get called out. He certainly called out the students he saw yawning.
His classes were interesting but didn't end until 10 p.m. when most students were finishing out four hours of classes, after a long work day that generally started at 8 a.m. Yawns happen after a 14-hour day.
He was right about contagion, though. Ever watch someone yawn and find yourself yawning a few seconds later? Are you yawning now, just reading this?
Something else that has a scientific basis is the fact that itching is also contagious. When hearing stories of hives, we often end up scratching our own skin. When we see someone itching, it causes us to mimic the actions.
Do you have an itch somewhere and then end up itching a large part of your body because everything ends up feeling like it desperately needs a scratch? That's the contagious part of itching !
A psychologist named Henning Holle from the University of Hull in England asked 51 adults to watch a video of people scratching themselves and another of them tapping themselves on various body parts. The researcher, Henning Holle, asked these adults to watch a series of images that tested the following personality traits: openness, conscientiousness, extroversion, agreeableness and neuroticism.
An imaging system was used to see how the brain reacted, by monitoring blood flow to the brain. Two-thirds started scratching themselves upon watching the scratching video.
Holle wanted to know why this was happening. According to the NBC article that wrote about this story, "...watching an itch sparks activity in the anterior insular, primary somatosensory area, and the prefrontal and premotor cortices. These regions, part of the itch matrix, also activate when a person actually feels an itch, meaning that watching someone scratch makes the brain think it is experiencing an itch". http://bodyodd.nbcnews.com/_news/2012/11/12/15115633-itchiness-is-contag...
Different personality types showed to have different reactions. Empathetic people generally didn't scratch more than those who were less empathetic in general, but those adults who were more moody, more liable to experience depression, guilt, jealousy and anger (highly emotional persons) were actually far more likely to experience this kind of "contagion itching."
Brain activity showed that "neurotic" people were more likely to relive another's experience.
Many parents (including myself) recount scratching our heads and bodies when told stories of school kids coming home with crawlies in their hair and on their pillow cases. Like lice, itching is truly contagious!
Some good news is that laughter is also contagious. And according to a linked NBC story on the topic, laughter in the company of others increases endorphins that help relieve stress and simply make people feel good.
Even better, lots of belly laughs can help with pain tolerance. If you or someone you know isn't feeling well physically or emotionally, a comedy show might be just the ticket.
SOURCES:
NBCNews. The Body Odd. Itchiness is contagious, just like yawning. Web. Retrieved November 28th, 2012.
http://bodyodd.nbcnews.com/_news/2012/11/12/15115633-itchiness-is-contag...
NBCNews. The Body Odd. Web. Retrieved November 28th, 2012. " Comic relief: Laughter is a natural painkiller. "
http://bodyodd.nbcnews.com/_news/2012/11/18/15114626-comic-relief-laught...
Reviewed November 30, 2012
by Michele Blacksberg RN
Edited by Jody Smith