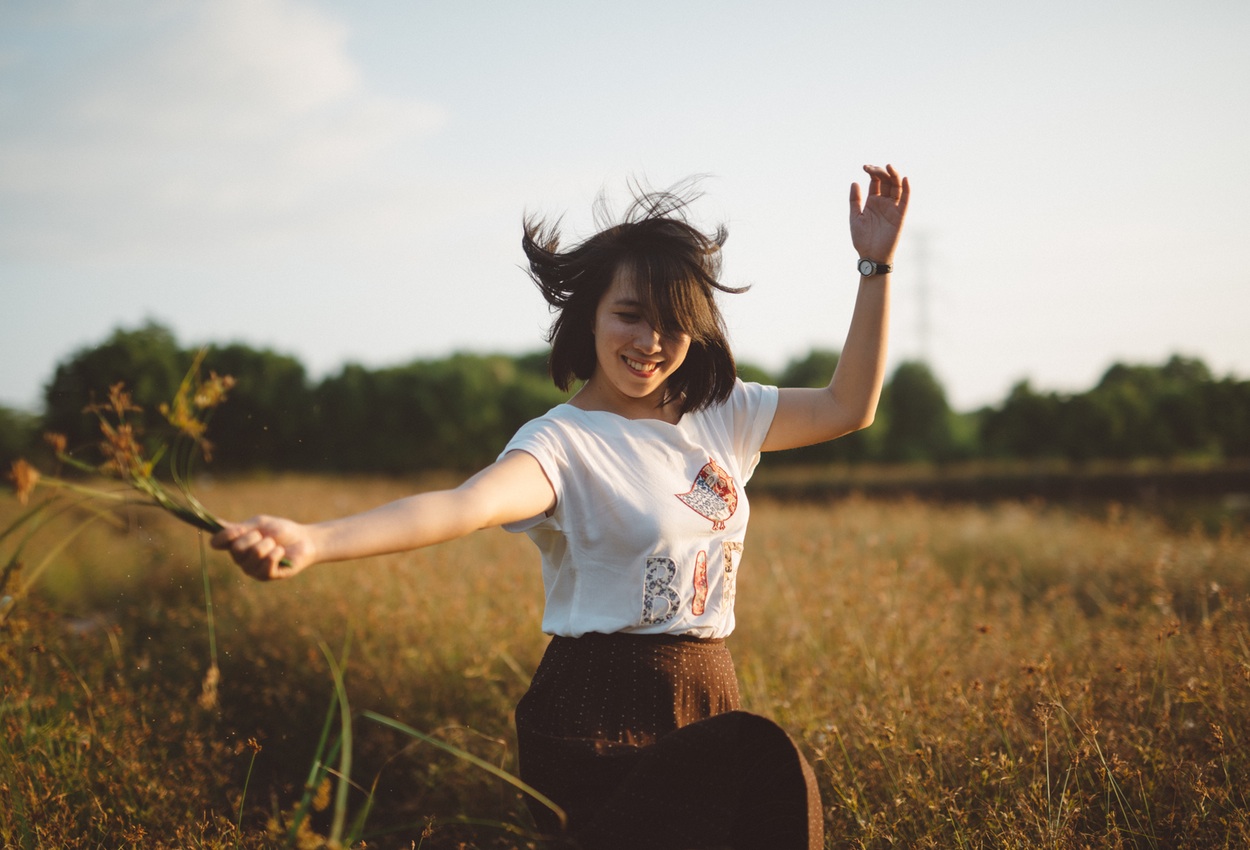 Bảo-Quân Nguyễn/Unsplash
Nourish your sense of accomplishment and let this fuel each step towards your personal recovery. Do what you can with what you have while you're getting where you want to be.
Today you may not have the energy to prep a week of healthy foods that will help you feel better, but you are reading about those foods now for when you are ready.
As discussed in Nutrition and Mental Health: Benefits of Supplements, there are as many neurons in the abdomen as there are in your brain — collectively known as "the gut brain." The gut brain is responsible for making 95 percent of our serotonin, our "happy" neurotransmitter.
When digestion is flowing smoothly, serotonin production can go as planned. Overall this means eating regularly (daily and about the same times daily) and getting enough protein and fiber throughout the day.
Consistency
If you're eating at regular intervals, this lets your body know what to expect, and sets a pace for digestion. A flow rather than chronic stop and go. We all like to know what to expect, and our digestive tract is no different.
Protein
Protein stands out as an important nutrient to include in every meal and snack, because it does so much for your body. You use protein to maintain your tissues, repair damaged tissues and to make both hormones and enzymes — all of which are key to feeling good inside and out.
No need to buy expensive protein supplements. The goal is overall health, not bulking up like Stallone. Naturally occurring proteins found in lean meats, seeds, nuts, beans and eggs are better absorbed by the body, and delicious to boot.
Fiber
Fiber keeps everything flowing nicely by binding to water, easing food's movement through the intestinal tract. Going back to consistency, eating fiber-rich foods at every meal and snack will increase fiber intake throughout the day. Too much fiber, or too much all at once, can overwhelm the GI tract causing bloating, gas and diarrhea.
The Institute of Medicine recommends 25 grams of fiber a day for women and 38 grams of fiber a day for men. To start, rather than calculating numbers, strive to eat fiber rich foods at every meal and snack. Fiber is found in fruits, vegetables, whole grains, seeds and nuts.
Iron
Iron is needed for blood cells to bind to oxygen, and then transport that oxygen to the rest of the body. Deficiency in iron, known as iron deficiency anemia, can make you feel tired, cold, irritable and sluggish. Eating iron-rich foods such as meats, beans, nuts, seeds and dark-green leafy vegetables can boost iron levels.
Magnesium
Magnesium is a mineral needed for over 300 functions in the human body. Many of these functions relate to nerves. What helps nerves helps mood. When nerves are calm, the chemical messages controlling thought processes and bodily functions travel well.
While magnesium is found in a variety of foods, it's found in higher concentrations in baby plants. "Baby plants" refers to anything that could be planted in the ground and some day it would grow up to be a big plant: seeds, nuts and beans.
Do not supplement with magnesium unless instructed to by your doctor. Magnesium is an electrolyte, and supplementation can affect your water balance.
Zinc
Research shows a strong correlation to zinc intake and depression — the more depressed a person is, the lower zinc levels are in their blood.
Zinc is important in our stress response, and when stressed we burn through it. Zinc is primarily found in red meats, dark green vegetables, pumpkin seeds and oysters. Supplementation may be a good idea, especially for vegetarians, as non-meat sources are limited. Check with your doc first, though, to make sure it wouldn't interfere with any of your medications.
Starter Grocery List
Pick a couple items you enjoy and add them to your meals this week. Next week, try a few more:
Asparagus
Beets
Beans
Broccoli
Cucumbers
Grapes
Green Beans
Kale
Lentils
Nuts
Organic, Lean Meat (If you eat meat)
Pumpkin Seeds
Quinoa
Raspberries
Strawberries
Watermelon
Yogurt
Zucchini
Sources:
The Brain-Gut Connection. Johns Hopkins Medicine. Retrieved June 9, 2015.
http://www.hopkinsmedicine.org/health/healthy_aging/healthy_body/the-brain-gut-connection
Szewczyk B et al. The role of zinc in neurodegenerative inflammatory pathways in depression. Prog Neuropsychopharmacol Biol Psychiatry. 2011 Apr 29;35(3):693-701. doi: 10.1016/j.pnpbp.2010.02.010. Epub 2010 Feb 13. Abstract:
http://www.ncbi.nlm.nih.gov/pubmed/20156515
Magnesium in diet, US National Library of Medicine, Retrieved June 9, 2015.
http://www.nlm.nih.gov/medlineplus/ency/article/002423.htm
Fiber: How much do you need?, WebMD.com. Retrieved June 9, 2015.
http://www.webmd.com/food-recipes/fiber-how-much-do-you-need
Reviewed June 10, 2015
by Michele Blacksberg RN
Edited by Jody Smith