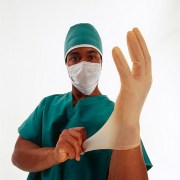 Photo: Getty Images
Latex gloves have become a standard in health care to protect both patients and health care providers. But some people who are frequently exposed to latex, such as health care workers, also run the risk of becoming sensitive or allergic to latex. A recent study from the Medical College of Wisconsin shows that the most effective strategy to prevent workers from becoming sensitized to latex is to stop using powdered latex gloves.
An allergy is an incorrect response by the immune system. In the case of latex, the immune system mistakes proteins found in natural rubber latex for something that is harmful to the body. When this happens, the immune system triggers the body to create antibodies that are matched to the latex protein in order to fight off the perceived invader. The next time the body is exposed to latex, the antibodies trigger the release of histamine which produces the standard symptoms of an allergic reaction including itching, rash, runny nose, watery or itchy eyes, or difficulty breathing. A severe allergic reaction, known as anaphylactic shock, can cause wheezing or difficulty breathing and a drop in blood pressure which can be fatal.
Latex allergies tend to get worse with repeated exposure to latex. Some items that contain latex include gloves, balloons, condoms, bandages, baby bottle nipples, elastic, and spandex. Latex gloves used in health care are a common trigger for latex allergies and researchers have suspected that powdered latex gloves had a higher association with latex allergy. Powdered and powder-free gloves have the same basic latex composition. Powdered gloves have a small amount of cornstarch powder in the gloves to make it easier to get the tight-fitting gloves on and off. The powder itself does not pose a risk, but when powdered gloves are removed, some of the powder becomes airborne, carrying particles of latex with it.
Researchers at The Medical College of Wisconsin tested the amount of latex found in the air ducts at the workplaces of more than 800 health care workers in Wisconsin. They measured latex levels before and after the facilities switched from powdered to powder-free latex gloves. Their results showed a strong correlation between high levels of airborne latex allergen and high numbers of workers with latex allergies.
Following the switch to powder-free gloves, the research team measured a 16-fold decrease in the rate of latex allergy development among workers. In addition, 25 percent of workers who had shown a latex sensitivity at the start of the study lost that sensitivity. Researchers were not able to determine whether those workers would re-develop a latex sensitivity after future exposure.
Latex sensitivity among health care workers can be seen to have an impact on patient care as health care workers who are sensitized to latex are nearly three times more likely to leave their jobs. The researchers hope their results will influence hospitals and other facilities to implement changes to lower the risk of latex allergy among health care workers.
Sources:
Science Daily. Using Powder-Free latex Gloves Reduces latex Allergy Rate in Health Care Workers. Web. August 22, 2011.
http://www.sciencedaily.com/releases/2011/08/110817120231.htm
Mayo Clinic. Latex Allergy. Web. August 22, 2011.
http://www.mayoclinic.com/health/latex-allergy/DS00621
American Latex Allergy Association. Common Latex Products. Web. August 22, 2011.
http://www.latexallergyresources.org/topics/CommonLatexProducts.cfm
Reviewed on August 23, 2011
by Maryann Gromisch
Edited by Jody Smith