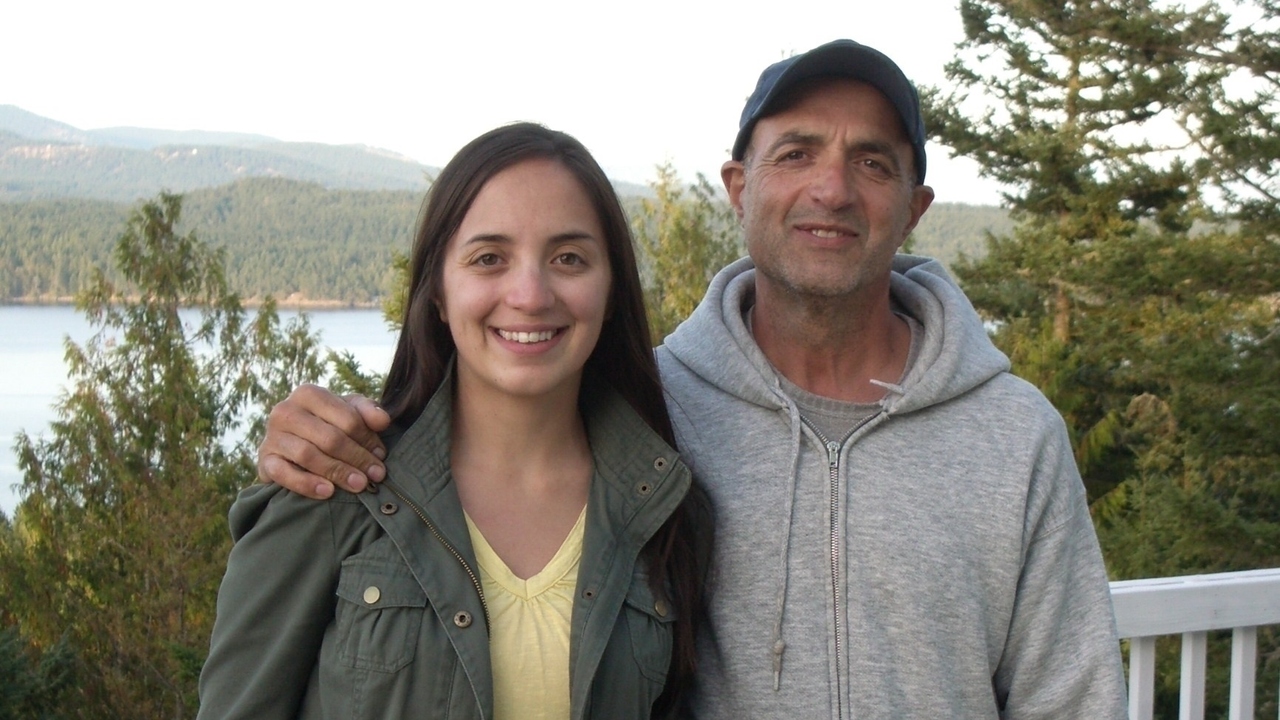 Courtesy of Sheila Amir
"You always eat super healthy."
I've heard it a thousand times. I generally eat healthy foods. Not because I'm a nutritionist or on a health kick, but rather because those are the foods I enjoy.
I was blessed to grow up in a household where healthy, delicious food was our norm. It could be said that my dad grew me into a nutritionist from the ground up.
Always salad at dinner
We ALWAYS had a salad at dinner. No matter the main course, even if it was a vegetable entrée, we had a dinner salad. Dad would prepare a large bowl filled with finely chopped romaine lettuce, carrots, sweet peas, tomatoes and more. A big, beautiful salad was always present at the dinner table and we filled at least half our plates with it.
Healthy, homemade meals
Eating out was a rare treat for us and we didn't mind, because dad made awesome food. I learned how to cook, and I learned a lot about life standing in the kitchen helping dad make dinner.
This is how I learned to make Persian food, just as he did from helping my grandmother make dinner. I guess I can say I'm a classically trained Persian chef.
Tea
I cannot remember ever seeing a can of soda at my dad's house. We had three options at our house — milk, water or tea. Instead of drinking caloric sugar bombs, we were sipping up on antioxidant-rich, black tea with a little honey. While my sister and I opt more often for green tea these days, we are still tea drinkers. Our health and waistlines reflect this healthy habit dad gave us.
Garden
Our entire backyard growing up was encompassed with a beautiful garden. Tomatoes, zucchini, eggplant, peppers, sweet peas, plums and mint like you wouldn't believe!
Dad gave me my own 2-square-foot plot to grow marigolds and taught me how to garden. We were spoiled with backyard and local produce for several months out of the year.
Physically active
I had the buff dad often compared to Sylvester Stallone. I saw that fitness is a way of life. At a very young age, it became engrained in my mind that going to the gym after work is simply what adults did.
On nice days, he also made time for evening neighborhood bike rides. Summer weekends we spent hiking, camping and fishing in the Rocky Mountains.
Our family was the one with pre-chopped vegetables in the cooler to cook up with our catch of the day. No wonder I ended up being the adult who made campfire zucchini lasagna bakes.
Packed ridiculously awesome lunches
Looking back on it, I know where my obsession with awesome lunches began. My dad used to pack these ridiculously huge, but awesome, lunches for me to take to school. He never mentioned how awful school lunches were, but rather focused on making sure I had a great lunch every day.
"It's not only good, it's good for you." I can think of about 30 lifelong friends who can hear his voice saying that.
Twenty years later, these lunches are still legend. He would fill an entire grocery bag with fruits, vegetables, nuts, and a giant sub sandwich loaded with lean meat and vegetables.
He'd scoop out the inside of the bread to make more room for vegetables, which were often from our garden. Not sure why he thought a little girl needed half a French bread sandwich, but my friends didn't mind.
These lunches ended up feeding myself and three to four more friends — something that sticks with me today, as I love to make large meals for friends and family. If you come to my home, you'd best love veggies, and wear your stretchy pants.
Always focus on the positive
I'm privileged to have a dad who always has and always will sit down for long talks with me. Yes, there have been plenty of times I didn't want to have a conversation, but I'm better for it.
No matter the topic he has always consistently ended it on one note: all that really matters is you're happy, kid.
Edited by Jody Smith