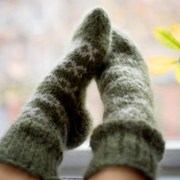 Jupiterimages/Creatas/Thinkstock
According to the Arthritis Foundation, ʺAn estimated 6.1 million Americans have experienced at least one gout attack. The disease most commonly affects men and can manifest anywhere from age 30 onward. Women get gout too, although they are at a slightly lower risk, and it usually appears after menopause.ʺ
Arthritis Today Magazine stated that, once called the "disease of kings," gout has long been associated with portly men -- especially those who could afford to overindulge in rich foods and alcohol.
However, it has been discovered women during their menopause years are more susceptible to gout.
The average age of menopause is 51 years old and during this time our bodies are producing less estrogen.
According to Arthritis Today Magazine, "Estrogen may help the kidneys excrete uric acid, so after menopause, a woman's uric acid level begins to increase. It usually takes several years for the uric acid level to reach the point where crystals can form. By about age 60, the number of cases of gout in women and men are about equal; after age 80, more women than men have gout."
Gout often affects the big toe or fingers but can occur any other joints "including the feet, ankles, knees, hands, wrists, elbows and sometimes soft tissue and tendons."
So, how do you know if you or your loved one has gout? The University of Maryland Medical Center's (UMMC) website said the following are symptoms of acute gouty arthritis:
• Chills and mild fever, loss of appetite, and feelings of ill health
• Severe pain at and around the joint
• Pain occurs late at night or early in the morning and may wake you up
• Pain may feel like "crushing" or a dislocated bone
• Pain usually takes 8 - 12 hours to develop
• Physical activity and even the weight of bed sheets may be unbearable
• Swelling that may extend beyond the joint
• Red, shiny, tense skin over the affected area, which may peel after a few days
If you are suffering from any of these symptoms, contact your doctor immediately. Your doctor can diagnose you for gout and "determine whether your body makes too much uric acid (an 'overproducer') or doesn't excrete uric acid fast enough (an 'underexcreter') in diagnosing gout."
If you are overproducing your doctor may prescribe "allopurinol (Lopurin, Zyloprim) to decrease their bodies' uric acid production."
If you are underproducing uric acid your doctor may recommend "probenecid (Benemid, Probalan) to help their bodies eliminate uric acid."
Also, you may be able to reduce your levels of uric acid by changing your diet. You will want to avoid foods high in purine. Foods high in purine increases your uric acid levels.
To find out which foods you should and should not eat see the Gout Diet article at https://www.empowher.com/gout/content/gout-diet/
References:
Arthritis Disease Center l Disease Definitions l Arthritis Disease and Related Conditions. Arthritis Foundation | Symptoms Treatments | Prevention Tips | Pain Relief Advice. Retrieved May 2, 2012, from
http://www.arthritis.org/disease-center.php?disease_id=42&df=definition
Fast Facts About Gout. Arthritis, Musculoskeletal and Skin Diseases Home Page. Retrieved May 2, 2012, from http://www.niams.nih.gov/Health_Info/Gout/gout_ff.asp
Gout - Symptoms. University of Maryland Medical Center | Home. Retrieved May 2, 2012, from http://www.umm.edu/patiented/articles/what_causes_gout_000093_2.htm
Gout Symptoms and Stages. The Gout and Uric Acid Education Society. Retrieved May 2, 2012, from
http://gouteducation.org/patient/what-is-gout/gout-symptoms-stages
Part, B. Gout Women | Gout in Women | Arthritis Today Magazine. Arthritis | Arthritis Today Magazine | Arthritis Foundation. Retrieved May 2, 2012, from http://www.arthritistoday.org/conditions/gout/all-about-gout/gout-in-women.php
Reviewed May 2, 2012
by Michele Blacksberg RN
Edited by Jody Smith