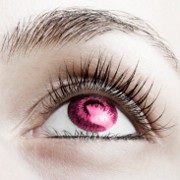 Photo: Getty Images
When you see something, it takes a lot more than just your eyes: many parts of the brain are involved in how you perceive an image.
Vision starts with the eyes: light passes through the conjunctive, which is a thin membrane that covers the eye and also lines the inner eyelids. Then, that light passes through several optical components, which include the cornea, aqueous humour, pupil, lens and vitreous humour (the Canadian Institutes of Health Research's page on the eye provides a diagram on the eye and the different structures involved in vision). But to process an image, your eye needs to send that information onto the brain. That information is sent through one of the cranial nerves: the optic nerve. Each eye has a branch of the optic nerve, which intersect at the optic chiasm. At the optic chiasm, the optic nerves switch sides. So information that comes from your left eye is sent to the right side of your brain, and information that comes from your right eye is sent to the left side of your brain.
Once that visual information has been sent through the optic nerve, it is transmitted to different areas of the brain. The optic nerve ends in an area of the brain called the lateral geniculate nucleus, which is located in the thalamus, a structure located close to the center of the brain. The information is then sent from the lateral geniculate nucleus to the primary visual cortex, which is located in the occipital lobe, the lobe of the brain by the back of your head. When that information is in the primary visual cortex, your brain starts to reconstitute that image. Information is also sent to the secondary visual cortex. This visual information is also sent to other areas of your brain to help you recognize and locate it through the ventral pathway and the dorsal pathway.
A new study looking at the different visual pathways in your brain may help researchers understand more about attention and perception. The study, which was published in the journal Nature Neuroscience, looked at the brains of macaque monkeys. The researchers looked at the V4 visual area of the brain in these monkeys, which is involved in visual object recognition. HealthDay News reported that this area of the brain in macaque monkeys had separate sections for brightness and color and also had regions for processing shapes. For example, the researchers found that separate sections existed for processing individual colors. For the regions of the V4 visual area involved in processing shape, domains were separated by orientation. As a result, one domain would process a vertical orientation while another domain would process a horizontal orientation. While this study was done on animal brains, it provides further insight into how we perceive visual information.
Tags: