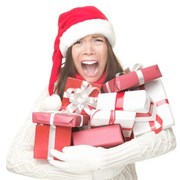 Photo: Getty Images
As the days get closer to Christmas, there are some women who are sitting somewhere sipping a hot cup of tea. They are smug in the knowledge that their shopping is done, presents are wrapped, cards are sent out, cookies are baked, and holiday outfits for the whole family are freshly ironed and hanging nicely in their closets.
For the rest of America though, a little bit of panic may have set in on a variety of fronts. Perhaps all the gifts have not been bought. Maybe the decorating has just not been finished. In some cases, the baking has not been done. And in the worst case scenario, everything is still left to be done.
Well don't stress, help is here! Read on for some holiday assistance for all procrastinators.
Last minute holiday decorating
A blogger who calls herself the English Muse offers some great last minute decorating tips in a column for Lamps Plus.
1. Don't stress over a big tree. Buy a potted evergreen from a garden store or supermarket and decorate as much or as little as you see fit. The bonus is that after the New Year, the plant can be transported to the yard or patio for even more enjoyment.
2. A bowl of colorful glass ornaments make a great festive centerpiece.
3. Bring some of nature inside with the use of pinecones as a garland or alongside candles as a holiday vignette.
Last minute holiday shopping
SheKnows.com knows most women are juggling so much that not all the shopping has been finished by now. They have three great tips for women preparing to get that last minute haul.
1. Skip the "hot" toys. The Lalaloopsy Silly Hair doll and Leapfrog Leappad might just have to be a birthday gift for the little ones this year. Even if stores do have any in stock, and in most cases they won't, the prices will be sky-high because of their demand.
2. Compare prices. Go online and do a little research before heading out to the store. Pricegrabber.com is a great way to quickly compare prices for stores near you.
3. Don't be afraid of "pre-owned" gifts. Parents can buy great toys at a fraction of the cost by buying the items used. Doll houses, train sets, and even bikes are great things to buy "pre-owned". The kids won't know the difference!
Last minute holiday baking
The idea is that during the holidays, things don't have to be done like your mother did them thirty years ago. It is ok to "cheat" with store-bought dough (or even cookies) or to use a kit to make a gingerbread house.
It is about the memories and most people won't turn away a nicely-iced cookie no matter if it came from your oven or not.
1. Buy store-bought dough. Make or buy the icing and ice and decorate them yourself. Sugar cookies are great for this. In a pinch, buying sugar cookies from the grocery store's bakery works too.
2. Bake in bulk. Instead of making twelve different types of cookies, make one really good type, twelve dozen times. Sounds like a lot but for most recipes that just means doubling the ingredients.
3. Make sure to always have the "baker's half dozen" on hand. These items include sugar, flour, baking soda, baking powder, salt, butter, and eggs. The Chef Mom on SheKnows.com calls these "magical holiday ingredients" which can be turned into hundreds of pie, cookie, and bread recipes quickly and easily.
The bottom line is to just take a breath, remember the reason for the season, and know that everything will get done. And if it doesn't get done ... it doesn't matter.
Sources:
LampsPlus.com. Web. 21 December 2011. "A procrastinators guide to simple holiday decor."
http://www.lampsplus.com/info-center/b/blog/archive/2011/12/16/a-procrastinators-guide-to-simple-holiday-decor.aspx
Sheknows.com. Web. 21 December 2011. "Holiday shopping tips for procrastinators."
http://www.sheknows.com/shopping/articles/850103/holiday-shopping-tips-for-procrastinators
Chefmom.sheknows.com. Web. 21 December 2011. "Things to have on hand for last minute holiday entertaining." http://chefmom.sheknows.com/articles/817105/5-Things-to-have-on-hand-for-last-minute-holiday-entertaining
Edited by Jody Smith