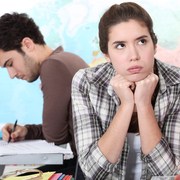 Auremar/PhotoSpin
I teach Science and Nutrition at a community college and master's degree level. I have students that come from all walks of life and have different learning styles based on their life experiences.
There is one thing that is the same about all my students and that is they want to do well, learn and get a good grade out of the class.
My challenge is to find a teaching style that is able to reach my students no matter what their learning style, so they can understand the science and nutrition.
This can be a real challenge since people have a variety of learning styles. Some people are visual learners, others auditory learners, while others are kinesthetic learners.
I often find that when students are first introduced to new material or concepts they can become overwhelmed or frustrated with incorporating these new concepts into their minds.
As we start a new school year and we think about how to make our students successful we have to consider their learning strengths and weaknesses. Your students might be your children, or maybe you yourself might be going back to school.
Today I wanted to shine the light on a special learning style which is more commonly known as a learning disorder, dyslexia. I call it a learning style because people who have it find unusual ways to process information.
Many people might not even realize they have this challenge and need to use different methods to learn. That is what happened to me.
Many people don't know that I have dyslexia, also called developmental reading disorder (DRD). So, I sympathize with students that struggle with finding a way to study dense material like science and nutrition by finding connections that allow them to make sense of the information and do well.
Dyslexia is characterized as a reading disorder where the brain does not properly recognize certain symbols. DRD does not interfere with one's ability to understand complex ideas and is not a reflection on their intelligence level.
It is an information-processing problem impacting a person's ability to read, write, or understand math or science, because all these disciplines use comprehension terms and ideas, and symbols to communicate.
If you are struggling with learning new concepts, consider getting tested or having your children tested for dyslexia. Once you have the diagnosis you can get help with learning tools to make you a successful student.
Emotional support is also important no matter what age you are when you are diagnosed.
Don't get discouraged!
Look at me. I completed undergraduate and medical school, I'm a writer, educator and speaker. It takes patience and confidence and you can be successful in whatever you want to be, too.
Study and Live Vibrantly,
Dr. Dae
Dr. Dae's website: www.healthydaes.com
Dr. Dae's book: Daelicious! Recipes for Vibrant Living can be purchased @ www.healthydaes.com
Dr. Dae's Bio:
Dr. Daemon Jones is a Naturopathic Physician who maintains a holistic practice treating patients all over the country using Skype and phone visits. She helps her patients harvest health and feel great, using a combination of safe and effective naturopathic and conventional methods.
Sources:
"Developmental reading disorder - PubMed Health." National Center for Biotechnology Information. N.p., n.d. Web. 15 Sept. 2012.
http://www.ncbi.nlm.nih.gov/pubmedhealth/PMH0002379
"Dyslexia: Symptoms - MayoClinic.com." Mayo Clinic. N.p., n.d. Web. 17 Sept. 2012.
http://www.mayoclinic.com/health/dyslexia/DS00224/DSECTION=symptoms
Reviewed September 17, 2012
by Michele Blacksberg RN
Edited by Jody Smith