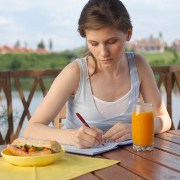 Photo: Getty Images
Last week I stumbled across a headline in Self magazine claiming that those who keep a food journal lose three — yes THREE — times more weight than those who don't. With odds like that, I decided to start writing down what I eat. Nothing too obsessive, but a little space in my planner I reserve for jotting down my meals and if I managed to get any exercise in.
One week later, I can already sense my motivation to eat better skyrocketing. There's something about the physical act of writing it down (yes, even that handful of M and M's) that makes you immediately more accountable. If you've been considering the idea of food journaling and haven't yet been motivated enough to start scribing, here's a few more reasons to get you started.
Accountability: If I have to write down three margaritas at over 150 calories a pop, I'm more likely to stick to just one instead. Forcing yourself to write down everything you put into your mouth will make you stop and think twice before chowing down.
Know Better, Do Better: Writing down what you eat and when you eat it emphasizes when you tend to over-eat and under-eat. Maybe you're always running for late night munchies because you don't eat enough during the day. Perhaps you go many hours without eating, causing you to eat larger quantities when you actually sit down and eat. Tracking your eating patterns allows you to tune in to your eating patterns.
Balance It Out: By referring back to your food journal you can see if you're eating habits are balanced. Are you eating too many carbohydrates? Are you getting enough protein?
Planning Perfection: Plan out your groceries for the next week by referring back to your previous week of dining. Also, if you're headed out for the night and wondering if you have enough calories in your food bank to get an extra glass of wine, read up on your day and say sayonara to guess work.
When All Else Fails, Get Help: If all of your dieting and exercising efforts fail to get you the results you want, it might be time to get help. Having a food journal ready to show a nutritionist or health professional and get advice on what you can change to see a change.
Edited by Jody Smith