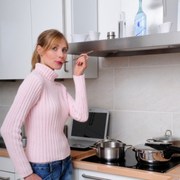 Photo: Getty Images
One pot meals are quite possibly the answer to all of life's problems. They are easy to clean up, perfect for reheating, and usually pretty darn healthy.
I love making one of my one-pot faves on a Sunday evening and nibbling at it for lunch and dinner all week long. This week I made khichdi, a staple in every Indian household.
Khichdi is a delicately flavored (and über healthy) dish where rice and lentils are cooked together. Enjoyed on cold, rainy days and given to sick tykes, it's the chicken soup of India.
This basic recipe can be modified by adding your favorite spices and veggies. Cook it tonight and eat healthy all week long.
1 cup brown rice
1/2 cup red or black lentils
2 onions, diced
1 large potato, peeled and diced
2 carrots, peeled and diced
1 cup cauliflower, chopped into small pieces
6 cloves garlic, diced
1 stick cinnamon (about 2–3 inches)
8 cloves
8 cardamoms
2 teaspoons cumin
3 bay leaves
1 teaspoon turmeric powder
2 teaspoons olive oil
6 cups of water
Salt and pepper to taste
Rinse rice and lentils until water runs clear and place aside.
In a large saucepan, heat olive oil until hot over medium-high heat.
Once hot, carefully add in cinnamon, cloves, cardamom, and bay leaves.
Once fragrant, add in cumin and garlic until sizzling.
Add in onions and fry until golden brown.
Add in turmeric and stir.
Stir in rice and lentils and sauté for about two minutes to soak up the flavor of the spices.
Add in remaining vegetables (potato, cauliflower, and carrots) and water.
Add salt and pepper.
Bring whole pot to a boil and reduce to a simmer.
Let simmer for about 35-30 minutes until rice is soft and lentils are mushy.
Add additional salt and pepper to taste.
Serve warm with a fresh green salad for a balanced, healthy one pot meal.
Edited by Jody Smith