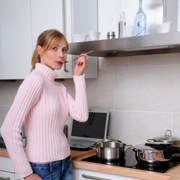 Photo: Getty Images
It's cold outside. Really cold. And word on weather.com is that it's going to get nothing but colder for the rest of the month.
There's nothing more soul-satisfying on a cold day than a bowl of warm, hearty chili. This recipe for Three-Bean Chili is hearty, healthy and oh-so delicious.
Make a pot on Sunday and stay warm all week long.
What You Need:
2 tablespoons olive oil
1 yellow onion, diced
4 cloves garlic, diced
1 green bell pepper, diced

4 stalks celery, diced
3 chipotle chiles in adobo, chopped
1 pound turkey (or lean ground beef)
2 cans petite diced tomatoes
2 cups chicken stalk
2 teaspoons ground cumin
1 teaspoon smoked paprika
1/2 teaspoon dried oregano
1 can black beans
1 can kidney beans
1 can pinto beans
Cilantro to garnish
Salt and pepper to taste
What to Do:
Heat oil in a large pot over medium heat. Add the onion, garlic, bell pepper, celery and carrots. Let cook, stirring occasionally for about 10 minutes, or until vegetables are soft.
Add the ground beef, cumin, paprika, and oregano. Raise the temperature and cook until the meat is browned.
Stir in the tomatoes, broth, and chiles. Reduce flame and let simmer for 30 minutes.
Stir in beans and cook for 15 minutes longer. Season with salt and pepper to taste. Garnish with fresh cilantro.
Edited by Jessica Obert