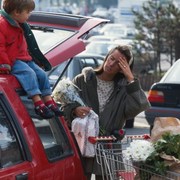 Photo: Getty Images
For most of us, this time of year adds extra duties, like holiday shopping and holiday parties, to our already tight work and home schedules. In this economy, we are doing our very best to stretch our dollars and time.
As mothers and wives, many of us choose to provide healthy and nourishing meals for our family and loved ones. But, these healthy meals require us to pay extra attentions to the labels and chemical content of the foods we serve our family.
The American Heart Association (AHA) offers a ʺGetting Healthyʺ section to their website. This section includes a nutrition center, healthy food recipes, grocery list builder and a plethora of other nutritional tools.
The grocery list builder (see link http://checkmark.heart.org/) offers heart healthy shopping recommendations.
The AHA's healthy food recipes are broken down into four categories. Those categories include:
• Poultry
• Pork/Beef
• Seafood
• Salad/Pastas
For those cold winter nights there is a healthy Mexican chicken soup
http://www.heart.org/HEARTORG/GettingHealthy/NutritionCenter/HealthyCooking/Mexican-Chicken-Soup_UCM_429131_Article.jsp and chicken chili
http://www.heart.org/HEARTORG/GettingHealthy/NutritionCenter/HealthyCooking/Quick-Chicken-Chili_UCM_429268_Article.jsp recipes.
Most of us buy our salad dressings in a bottle. However, there are so many ingredients in the salad dressing many of us cannot pronounce. I heard a nutritionist say, ʺIf you can't pronounce the ingredient, don't buy it.ʺ
Vegetarians will be happy to know the AHA's website also provides several homemade salad dressing recipes which only require two to seven ingredients. For these easy to make salad dressings recipes, you will find most of the ingredients in your kitchen. The link provides seven easy to make healthy salad dressings recipes:
http://www.heart.org/HEARTORG/GettingHealthy/NutritionCenter/HealthyCooking/Quick-Salad-Dressings_UCM_429569_Article.jsp
For those of you who live in Alabama, Florida, Georgia, North Carolina, South Carolina or Tennessee, there is a non-profit organization called OneHarvest Food Ministries which provides a family box of food for $35 dollars.
For example, December's family box offers the following for $35 dollars:
• 3 lb Avg Split Chicken Breast Bone In
• 3 lb Avg Chicken Leg/Thigh Combo (bone in)
• 1.5 lb Pork Chop (bone in)
• 1.5 lb Breaded Chicken Tenders
• 2 lb Meat Loaf with Red Sauce
• 1.5 lb Salisbury Steak patties
• 1 lb Ground Beef with All White Meat Chicken (75/25)
• 1 lb Ground Chicken
• 1 lb Roger Wood "Lumber Jack" Sausage
• 2 lb Fresh Frozen Waffle Fries or 4 Twice Baked Potatoes
• 1 lb Fresh Frozen Breaded Okra
• 1 lb Fresh Frozen Green Peas with Carrots
• 2 lb Fresh Frozen Corn on the Cob
• 1 lb Fresh Frozen Sliced Squash
• 10 oz Macaroni and Cheese Boil in Bag
• 16 oz pkg Pancake Mix
• .87oz pkg Brown Gravy Mix
OneHarvest is a valuable source that makes life very easy for those of us who are on an anorexic budget but who still want to provide nutritious meals for our families. They also provide other types of boxes of food for purchase (fruit/vegetable box, grilling box, etc.).
You can contact OneHarvest at (877) 818-1778 or visit their website at http://www.oneharvest.com.
In the next few months, they are planning to add healthy recipe information to their website as well as healthy recipe sheets with the purchase of a food box. All of their food is fresh and/or frozen.
Please note you have to order your box of food in advance and pick-up your box(es) at a designated location (which is usually a church). The deadline for ordering food is usually the first week of the month with pick-up in the third or last week of the month. This is one great way to stretch your food dollar.
References:
Browse Recipes. www.heart.org. Retrieved December 1, 2011, from http://www.heart.org/HEARTORG/GettingHealthy/NutritionCenter/HealthyCooking/Browse-Recipes_UCM_430018_Article.jsp#.TrGKEnJ_hU3
Current Menu | One Harvest Food Ministries. One Harvest Food Ministries. Retrieved December 1, 2011, from
http://www.oneharvest.com/menu
One Harvest Food Ministries. One Harvest Food Ministries. Retrieved December 1, 2011, from
http://www.oneharvest.com
Reviewed December 1, 2011
by Michele Blacksberg RN
Edited by Jody Smith