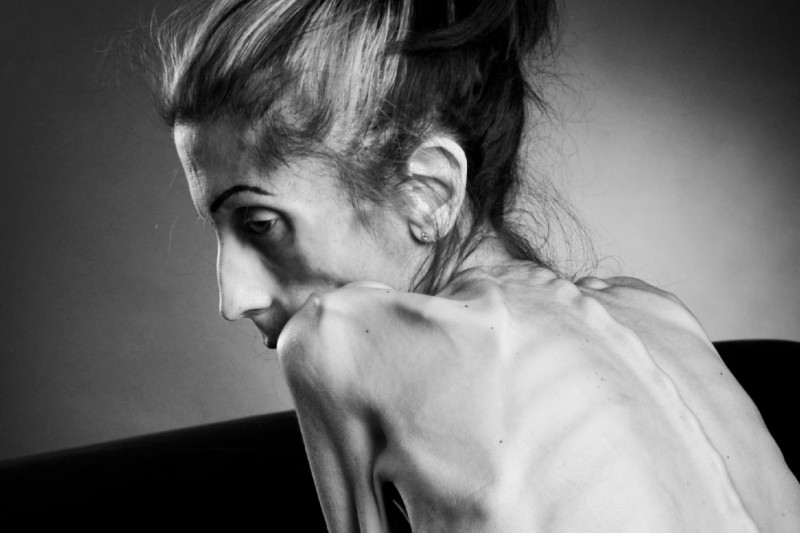 Via gofundme
During National Mental Health Awareness Month, one woman's battle with mental illness stands out.
Rachael Farrokh, 37, has caught the attention of the media with her desperate situation, where she is literally fighting for her life.
Farrokh has been struggling with her diagnosis of anorexia nervosa for 10 years, and her husband Rod Edmonson, 41, is concerned that she may not live to fight the battle much longer, according to ABC News.
Anorexia nervosa is a type of eating disorder that is characterized by severe food restrictions, low body weight and extreme fear of weight gain, according to the National Institute of Mental Health.
Farrokh is only 5'7" and 40-something pounds, according to her Youtube video posted on her <![CDATA[]]>GoFundMe page<![CDATA[]]>.
She weighed 125 pounds prior to her severe struggle with anorexia, according to ABC News.
Now her bones are visible through her skin, and she spends most of her time in a hospital bed at home, where her husband has become her full-time caregiver, according to ABC News.
She has had numerous health issues as a result of her low body weight, including heart, kidney and liver failure, as well as osteoporosis. Many hospitals won't take Farrokh because she does not reach their minimum weight requirements.
Farrokh is currently unable to walk by herself due to her fragile condition after falling in her house in September 2014, ABC News said.
Currently only one hospital will take her due to her extremely low weight and concerns of liability, according to her page.
Her <![CDATA[]]>GoFundMe page<![CDATA[]]> has raised over its goal amount, $100,000, at more than $175,000.
This money will be used to cover her medical expenses, and hopefully get her treatment at one hospital in the country that may be able to take her on as a patient, according to her page.
Farrokh also has a Facebook community page with almost 9,000 fans, called "Rachael's Road to Recovery," where updates and article links related to her story are posted.
Bonnie Brennan, the senior clinical director of Adult Residential and Partial Hospital Services at Eating Recovery Center, urges women with eating disorders to not give up, even in the case of Farrokh.
"The body can do amazing things," Brennan said in an email. "If you or your loved one is this compromised, look into programs that specialize in inpatient care for eating disorders."
"Not all medical providers are experienced with treating the illness at this severity," she added.
If you know someone who is suffering from an eating disorder, there are many resources available to assist, including organizations like the National Eating Disorders Association (NEDA) and various treatment centers.
Sources:
Pelletiere, Nicole. ABC News. California Woman's Shocking Descent Into Anorexia, in Her Own Words. Web. May 22, 2015.