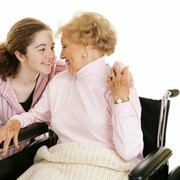 Photo: Getty Images
With the holidays fast approaching, this is usually the time of year that people not only open their hearts, but their minds as well. There appears to be a greater sense of human compassion and understanding and random acts of kindness not otherwise seen during other times of the year.
So many of us have disabilities, many of which cannot be seen with the naked eye but which can be just as horrific as those which can. Amongst us are those bustling about checking off items on their Christmas lists rushing past those of us who aren't moving fast enough, in their opinion, and need to get a move on.
I doubt anyone has ever stopped to consider the fact that perhaps they can't. Perhaps their radiation therapy has so damaged their hip bones that walking itself is a major accomplishment.
The reason this has become noticeable to me is because as a result of complications from my own cancer treatment, I often suffer from such circumstances. I certainly would like to move a lot faster as I once was able, if only to get my own Christmas shopping done, although most of it I do online these days.
There are those who do not have handicapped parking stickers but who will deal with the risk of a ticket and take the parking spot anyway. They fail to consider the very significant difficult, if not impossible, situation in which they place the truly handicapped individual who needs that spot. They are only thinking of themselves.
Is this what the holidays are supposed to represent? Is this the sentiment behind what we are supposed to be celebrating? I think not.
At a time of the year when people generally tend to open their hearts and minds more so than at other times, these may be the perfect weeks to utilize that to become less judgmental regarding others, and to be thankful for the fact that you have your health.
Sources:
"Delta Airlines Fined for Mistreatment of Disabled Passengers | JParadisi RN's Blog." JParadisi RN's Blog | Where science, humanity and art converge. N.p., n.d. Web. 21 Nov. 2011.
http://jparadisirn.com/2011/02/18/delta-airlines-fined-for-mistreatment-of-disabled-passengers
"Demand Accountability for McDonald's mistreatment of Disabled Iraq Veteran - The Petition Site." Petition Site - Start free petitions. N.p., n.d. Web. 21 Nov. 2011.
http://www.thepetitionsite.com/2/demand-accountability-for-mcdonalds-mistreatment-of-disabled-iraq-veteran
"Personal assistance providers' mistreatment ... [Health Soc Work. 2004] - PubMed - NCBI." National Center for Biotechnology Information. N.p., n.d. Web. 21 Nov. 2011.
http://www.ncbi.nlm.nih.gov/pubmed/15453056
Reviewed November 22, 2011
by Michele Blacksberg RN
Edited by Jody Smith