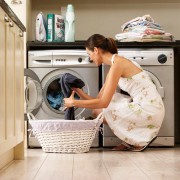 Photo: Getty Images
Black Friday and Cyber Monday have come and gone and many of us braved the crowds in the real world and typed our way to sales in the virtual realm.
With over $900 million in gross sales on Cyber Monday alone, Americans are making their lists and checking them twice to jump-start the holiday season.
Items ranging from TVs, iPods, trampolines and the latest designer jeans flew off the shelves this past weekend.
Although these are all seemingly great presents meant to bring joy into the hearts of our loved ones, one Consumer Reports staffer warned that there may be an unwelcome menace lurking in brand new clothing. That menace is a substance called formaldehyde.
The staffer tells his story of experiencing headaches and a sore throat simply because he was too impatient to wash his new clothes before wearing them out. He offers a simple precautionary solution we should not take lightly.
From the Consumer Report:
"Substances like formaldehyde and many other allergenic compounds are used in fabrics for a variety of reasons, such as to help them resist wrinkles and shrinkage. Since just one wash can eliminate or reduce levels of a number of these substances (along with any wayward bug that might have come from the person who tried the shirt on before you!), it's a good idea to wash new clothes that will be worn against the skin before you put them on."
Formaldehyde isn't a newly discovered substance and it certainly is not this country's next epidemic. In fact, "Nearly everything in the plant and animal kingdoms makes formaldehyde at various levels through the complicated process of living. And what the complicated organisms produce, the simple creatures eat," according to the Formaldehyde Council.
The U.S. doesn't have regulations in place to monitor formaldehyde levels in consumer products but maybe we should.
The National Cancer Institute Reports on the link between formaldehyde and Cancer, stating that high doses of formaldehyde exposure may be linked to brain cancer, leukemia and upper respiratory problems. Most side effects are minimal at worst; some estimates state about 9 percent of the U.S. population is so sensitive to formaldehyde that even low level exposures could be enough to set off an uncomfortable rash, or a severe allergic reaction.
"Some individuals may experience adverse effects such as watery eyes; burning sensations in the eyes, nose, and throat; coughing; wheezing; nausea; and skin irritation. Some people are very sensitive to formaldehyde, whereas others have no reaction to the same level of exposure," according to the National Cancer Institute.
The take away message is this: formaldehyde for the most part will not harm you or your loved ones. But in the rare case it can cause an allergic reaction to someone in your family or circle of friends, please take the simple step of washing new clothes this holiday season and throughout the year before wearing them for the first time. This simple step could save you, well, from a lot of headache.
Consumer Report
http://health.yahoo.net/articles/healthcare/wash-and-then-wear-unwashed-clothes-may-have-formaldehyde
Formaldehyde Council
http://www.formaldehyde.org/resources/quick_facts/
National Cancer Institute
http://www.cancer.gov/cancertopics/factsheet/Risk/formaldehyde
Reuters on Cyber Monday Sales
http://news.yahoo.com/s/nm/us_usa_retail_cybermonday;_ylt=Ag6fLTxJxmLTDdS0zgnzkGxzfNdF
Bailey Mosier is an athlete, friend and freelance journalist in Phoenix, Arizona. She leads an active, healthy lifestyle and aims to help women become bodies of knowledge and power for how to treat themselves right.