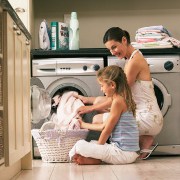 Photo: Getty Images
Picking out laundry detergent is more than just brand selection. Many top-selling brands also offer choices of scent. But those fragrances that make your laundry smell fresh and clean may also be pumping dangerous chemicals into the air through your dryer vent.
A recent study published online in the journal Air Quality, Atmosphere and Health tested air vented from dryers using top-selling scented liquid laundry detergent and scented drier sheets. Researchers found multiple hazardous chemicals in the air, including two that are consider to be cancer-causing.
The study was led by Anne Steinemann, a University of Washington professor of civil and environmental engineering. Researchers used washers and dryers loaned to the study by two homeowners.
They started by carefully cleaning the insides of the units to remove chemical residue from previous washes. The team ran three sets of new, prewashed organic cotton towels through the machines -- one using only water (no products), one with top-selling scented liquid laundry detergent, and one using both the scented detergent and scented dryer sheets. A canister placed inside the opening of the dryer vent captured air exhaust from the dryer 15 minutes into the cycle.
The study showed the presence of more than 25 volatile organic compounds in the air venting from the dryers. Seven of those chemicals are considered to be hazardous air pollutants. Two of the seven -- acetaldehyde and benzene -- are classified as carcinogenic or cancer-causing.
Acetaldehyde is a chemical that is most commonly used to produce other chemicals, including the manufacture of perfumes, polyester resins and dyes. It is also used to preserve fish and fruit, as a flavoring agent, and as a solvent. The U.S. Environmental Protection Agency (EPA) ranks acetaldehyde as a "Group B2 probably human carcinogen."
Benzene is a chemical that evaporates quickly into the air and has a sweet odor. It is highly flammable and is found in nature as a product of volcanoes and forest fires as well as crude oil, gasoline, and cigarette smoke. Benzene is widely used in the U.S. to make plastics, resins, lubricants, dyes, detergents, and pesticides. It is also a product of car exhaust. Benzene has been classified by the EPA as a "Group A human carcinogen."
"This is an interesting source of pollution because emissions from dryer vents are essentially unregulated and unmonitored," said Steinemann. "If they're coming out of a smokestack or tail pipe, they're regulated, but if they're coming out of a dryer vent, they're not."
The study results showed that in the Seattle area, the acetaldehyde emissions from the studied brand of detergent would equal approximately 3 percent of the total emissions of that chemical from car exhausts. The top five brands of detergent combined would equal approximately 6 percent of car emissions.
Steinemann said, "These products can affect not only personal health, but also public and environmental health. The chemicals can go into the air, down the drain and into water bodies."
Steinemann recommended using unscented laundry products rather than those with fragrance added.
Sources:
Science Daily. Scented Laundry Products Emit Hazardous Chemicals Through Drier Vents. Web. August 24, 2011.
http://www.sciencedaily.com/releases/2011/08/110824091537.htm
U.S. Environmental Protection Agency. Acetaldehyde. Web. August 24, 2011.
http://www.epa.gov/ttnatw01/hlthef/acetalde.html
Centers for Disease Control and Prevention. Web. Facts About Benzene. August 24, 2011.
http://www.bt.cdc.gov/agent/benzene/basics/facts.asp
U.S. Environmental Protection Agency. Benzene. Web. August 24, 2011.
http://www.epa.gov/ttnatw01/hlthef/benzene.html
Reviewed on August 25, 2011
by Maryann Gromisch
Edited by Jody Smith