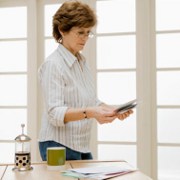 Photo: Getty Images
Medical bills can empty your savings account faster than water running down a drain. You always hope no one in your family gets sick but even with great preventive health practices, unavoidable illnesses do occur. The cost of healthcare is not going to lower anytime soon but there are some actions that might help reduce your bills.
*Ask about charges before you go:
Check what an office charges for the initial visit and follow-up visits. If you have insurance, it usually is less expensive to start with an in-network provider for an exam and lab work, even if you want to be seen later by another doctor. If you don't have insurance, tell the office and ask if the charges are negotiable, especially if you pay cash rather than use a credit card.
*Compare prices:
The Health-care blue book at http://healthcarebluebook.com is a source that can give average expected charges for a variety of treatments. You enter your zip code to see what is "usual" in your areas. Use this information when asking and negotiating charges for surgeries, MRIs, physical therapy, etc., to better know what to offer to pay.
*Ask if you can pay a discounted rate:
Remember, insurance companies and Medicare do not pay the doctor the prices that are on the bill. The charges are paid at a negotiated discounted rate. Ask the office about whether they can offer you the same rate they would accept from an insurance company.
*Look into lower cost treatments:
Ask for generic drugs when filling prescriptions. Try ordering regular medications online which is usually less expensive. Explore differences in the charges for in-patient versus out-patient charges when scheduling minor procedures.
*Always review your bill:
Be scrupulous examining your bills, looking for errors before you pay them. Call the billing department for any questions. Make sure to get the name of who you spoke to and a mailed paper receipt of any adjustments.
*Ask your insurance company to reconsider:
If your insurance company refuses to pay a bill you think they should, call and find out what is needed to re-review the bill. Get letters from your doctor to support your claim. Sometimes bills are denied simply because something was missing or no prior prescription was obtained.
*Hire a healthcare advocate:
Sometimes the services of someone experienced in navigating the insurance billing system can help if your bills are high and/or complicated. They have the experience to compare the codes on the bills with customary charges and the ability to decipher charges that may be erroneously billed. Advocates can charge anywhere from $35 to $200 an hour. Look for advocates who have medical backgrounds if you can.
Some places to search are:
http://www.advoconnection.com/index.asp
http://www.patientadvocate.org
http://healthcarewhisperer.com
*Payment plans:
Most hospitals and doctor's offices would prefer to receive partial payments instead of no payment at all. When all the above steps have been tried and the bottom line of charges is determined, see if the facility will let you pay by the month to work off the bill over time.
Sources:
Healthcare Blue Book. Your free guide to Healthcare Pricing. Web 11, Nov. 2011.
http://healthcarebluebook.com
How to Negotiate Your Medical Bills By Jeremy Vohwinkle. GX Generation X Finance. Web 11, Nov. 2011.
http://genxfinance.com/how-to-negotiate-your-medical-bills/
10 Ways to Negotiate a Medical Bill by John Perritano. How Stuff Works. Web 11, Nov. 2011.
http://money.howstuffworks.com/personal-finance/debt-management/10-ways-...
How to Find a Health Advocate. By Leslie Goldman. O, The Oprah Magazine. Web 11, Nov. 2011.
http://www.oprah.com/health/Health-Advocacy-Medical-Help
Michele is an R.N. freelance writer with a special interest in woman's healthcare and quality of care issues. Other articles by Michele are at www.helium.com/users/487540/show_articles
Edited by Jody Smith