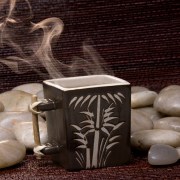 Photo: Getty Images
Everyone from celebrities to the other moms in the carpool lane seem to be talking about one detox diet or another. From a homemade cayenne pepper mixture to simple juice fast, people everywhere, especially women are trying to cleanse their symptoms and possibly lose weight at the same time.
Detox advocates say it is healthy to rid the body of toxins. Critics say detox regimes are just another type of fad diet whose adverse effects can be unhealthy.
In an article for WebMD, Dawn Jackson-Blatner, a dietitian at the Northwestern Memorial Hospital Wellness Institute and American Dietetic Association spokeswoman said, "these diets can give people a false sense of security, a feeling that they've been protective of their health. Then, when the diet's over, they go back to their normal way of eating."
Later in that same article, Peter Pressman, MD, an internal medicine specialist at Cedars-Sinai Medical Center in Los Angeles agreed that the science behind the detox diet is flawed because "the body already has multiple systems in place -- including the liver, kidneys, and gastrointestinal tract -- that do a perfectly good job of eliminating toxins from the body within hours of consumption."
However, there are some health advocates who say a gentle form of a detox can be a good thing, and in fact is quite the opposite of a fad as humans have been doing it for hundreds of years.
In an interview for this article, holistic nutritionist Michelle Butler, says "the whole detox idea has been popularized in the media as a favorite celebrity weight loss regime. But many ancient medicinal systems use detoxification as a vital healing technique for chronic conditions. For example, Native Americans use fasting and sweat lodges for purification, and Ayurveda (the medicinal system in India) uses herbs, massage, sweating, and various other methods to detox and cure the body of many ailments."
Ms. Butler went on to say that most detox methods are extremely stressful on the body, and aren't sustainable with today's fast past living. She created a 21-day detox for her nutrition clients that she says is healthier and not as extreme on one's body as most other detoxes.
She says there are many benefits from her program, but the top five benefits she's seen in the participants doing the detox program are:
1. Boost in energy and mental clarity
2. Boost in happiness and confidence
3. More mobility and complete reduction of pain in the joints
4. Almost, if not complete, reduction of belly bloating, and an increase in regular bowel movements
5. Weight loss of 5-15 pounds
Anyone interested in trying a body detox should talk to a health care professional about the particular program and should consider all the effects before starting one.
Sources:
WebMD.com, "Detox Diets: Purging Myths". Web. 28, September, 2011. http://www.webmd.com/diet/features/detox-diets-purging-myths
Email interview with Michelle L. Butler CHHC, AADP, RYT. 27, September, 2011.
Edited by Jody Smith