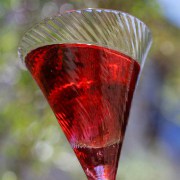 Photo: Getty Images
If you worry about getting a stomach ulcer or already have an ulcer, you might want to ask your health care practitioner about a simple but promising aid -- cranberry juice.
You've probably heard some people swear by cranberry juice for preventing urinary tract infections, and many doctors endorse it.
Now there's also talk about the connection between ulcer prevention and cranberry juice. The subject came up again in a recent New York Times "Really?" column, which regularly analyzes various health claims as to their accuracy.
The column, which appeared June 6, 2011, under the headline "The Claim: Cranberry Juice Can Cure Ulcers," concluded that drinking the beverage might have preventative benefits, given the research that shows cranberry juice helps eradicate Helicobacter pylori, the bacterium responsible for most ulcers. The column cited a 2008 study in which 271 children and teenagers who had tested positive for H. pylori were divided into groups drinking cranberry juice, receiving a probiotic or taking a placebo. The juice group (200 milliliters daily for three weeks) had the best "eradication rates" for H. pylori.
The Cranberry Institute in Massachusetts not only supports the cranberry-growing industry but also follows research into the fruit's health benefits. Its website points to research that says a "high-molecular-weight constituent" of cranberry juice inhibits H. pylori from sticking to stomach lining.
As a Mayo Clinic webpage on peptic ulcers pointed out, people can have H. pylori bacteria in their systems and not develop ulcers. Having the bacteria, though, does increase your chances of developing an ulcer, which is not a pleasant thing, since ulcers can prompt chronic burning pain in the upper stomach. Treatment usually involves antibiotics and acid-reducing medications.
By the way, in the "Lifestyle and Home Remedies" section of the Mayo webpage on ulcers, there is no mention of cranberry juice, although a diet rich in fruits, vegetables and whole grains is recommended.
According to Mayo's entry for cranberry (Vaccinium macrocarpon) in the Drugs and Supplements section, "Cranberry has been investigated for numerous other medicinal uses (besides preventing urinary tract infections), and promising areas of investigation include prevention of H. pylori infection, which causes gastrointestinal ulcers and dental plaque."
After talking to your doctor about stomach ulcer concerns, you might conclude that cranberry juice is tart yet tasty and that it can't hurt to try it.
Sources:
http://www.nytimes.com/2011/06/07/health/07really.html?_r=1&ref=health
http://www.cranberryinstitute.org/health/ulcer.htm
http://www.mayoclinic.com/health/peptic-ulcer/DS00242
http://www.mayoclinic.com/health/cranberry/NS_patient-cranberry
Reviewed June 8, 2011
Edited by Alison Stanton