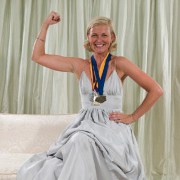 Photo: Getty Images
The banner on the American Stroke Association reads "Power to End Stroke - You are the Power." May is American Stroke Month and High Blood Pressure Awareness Month. That's 31 days of power--power to educate, power to tell others, power to change a life. This month, you have the opportunity to change your health and your future.
High blood pressure (HBP) is a risk factor for heart disease and stroke. Known as the silent killer, many people don't really know that much about high blood pressure or how it relates to heart disease and stroke. Consider the following:

• 76.4 million people over age 20 have high blood pressure
• 1 in 3 adults have HBP but only 21 percent know it
• Every 40 seconds someone has a stroke, every 4 minutes someone dies from a stroke (AHA 1)
• Stroke is the third leading cause of death in the United States
• African-Americans have a four times greater risk of stroke than any other ethnicity
• 150,000 people die every year from a stroke (Family Reunion 1)
I first became aware of the consequences of this silent killer in my early 30s when a friend of mine suffered her first stroke. Only 34, she was a single woman in the legal professional. Stress and high blood pressure were constant companions. Unfortunately, she was one of the almost 80 percent who didn't know she had high blood pressure--that is, she didn't know until she had a stroke which left her unable to communicate. As she related, she could understand what was being said but every word she spoke was unintelligible to others.
Since high blood pressure is unseen, the best way to detect is it is to have your levels checked regularly. Strokes, on the other hand, are much easier to detect. According to the American Heart Association, stroke symptoms include:
• Numbness or weakness of the face, arm or leg, especially on one side of the body
• Confusion, trouble speaking or understanding
• Trouble seeing in one or both eyes
• Trouble walking, dizziness, loss of balance or coordination
• Severe headache with no known cause. (Warning Signs 1)
If you suspect that you, or someone you know, may be having a stroke, do not pass go, do not collect $200. Go straight to the phone and dial 9-1-1. When dealing with a possible stroke, time is of the essence so be certain to note the time that symptoms first appeared. One of the tools available to physicians is the drug tPA or tissue plasminogen activator. To lessen the risk of permanent brain damage, stroke victims must receive tPA within three hours after symptoms first appear.
My friend was one of the lucky ones. Her co-workers recognized something was seriously wrong and sought immediate medical attention. They may have saved her life.
Mary Kyle is a freelance writer, editor, and project manager. She has a Master's degree in Legal Studies and is a certified Project Management Professional. She has two children's books to her credit and has authored or co-authored hundreds of articles. A songwriter and musician, she is a member of several bands and performs regularly.
Sources:
May is Stroke and High Blood Pressure Awareness Month, American Heart Association, http://www.heart.org/HEARTORG/
31 Days of Power, American Stroke Association, http://powertoendstroke.org/get-31days.html
Family Reunion Toolkit Overview, American Heart Association, http://powertoendstroke.org/pdf/PTES_Family_Reunion_Toolkit.pdf
Warning Signs of Heart Attack, Stroke & Cardiac Arrest, American Heart Association, http://www.heart.org/HEARTORG/Conditions/Conditions_UCM_305346_SubHomePage.jsp