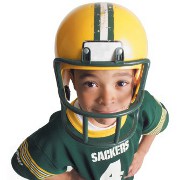 Photo: Getty Images
You may or not be a football fan so you may not be aware that the new 10-year contract between the National Football League players and team owners had a lot to do with safety for the players and retirees and was less about salary increases. That's because it has now become crystal clear how dangerous football can be and that long-term serious health problems can result. Head injuries are high on the list.
If you are the parent of a child athlete who plays football or soccer, or if you are an aunt or a sister or a grandma, you need to be aware that the risk of serious injury or even death from sports head injuries is even higher in kids than adults. A child's brain is still forming and is more vulnerable to trauma. That's magnified by the fact that many coaches and parents aren't aware of the dangers and put a priority on a kid who received a little "ding" to go back in the game to help the team win. The kid may want to go back in the game too. But someone may very well need to say no.
In my home state of Washington a middle schooler named Zack Lystedt got "dinged" in a football game. His brain had received a blow. But later Zack went back into the game and had a second impact during play. This caused his brain to bleed and swell further in the trapped space of his skull, and he could have died. Some people do. Zack ended up being permanently injured, all because the coaches did not know enough to keep him out.
Zack's terrible story led to a movement of healthcare professionals in our state who pushed for the Zack Lysted Law that now requires any student who may have received a blow to the head to be medically evaluated before they can go back in. Several other states are considering similar laws.
What can you do in the meantime so that your child-athlete grows up with all their faculties and full mobility? 1) Do not foster a culture of "playing through the pain" or not speaking up to a coach or trainer if they may have been injured or hit hard. 2) If a child has received a blow to the head, insist that they be checked out by someone who has been trained in the risks of concussion. 3) Be sure the child understands how important this is to their future.
I know it's thrilling to see your kid do well on their field, even to be a star. But contact sports have risks and a second concussion is one of the most serious in the short-term and for life. Please take the time to listen to our Patient Power programs with Dr. Stanley Herring as he explains what you can do to ensure your child or loved one isn't permanently injured too. This CAN be prevented.
Patient Power programs with Dr. Stanley Herring, Seattle Sports Concussion Program Co-Director,Seattle Seahawks Team Physician:
Recognizing Sports Concussion: When to Seek Treatment: http://goo.gl/CpV00
The Zack Lystedt Law: Preventing Brain Injuries in Children: http://goo.gl/QJXOC
Edited by Jody Smith
About the author: Andrew Schorr is a medical journalist, cancer survivor and founder of Patient Power, a one-of-a-kind company dedicated to bringing in-depth information to patients with cancer and chronic illness. Audio and video programs, as well as transcripts, help patients make informed decisions to support their health in partnership with their medical team. Patient Power is at www.PatientPower.info and on Facebook. Schorr is also the author of "The Web Savvy Patient: An Insider's Guide to Navigating the Internet When Facing Medical Crisis." http://www.websavvypatient.com/
Tags: