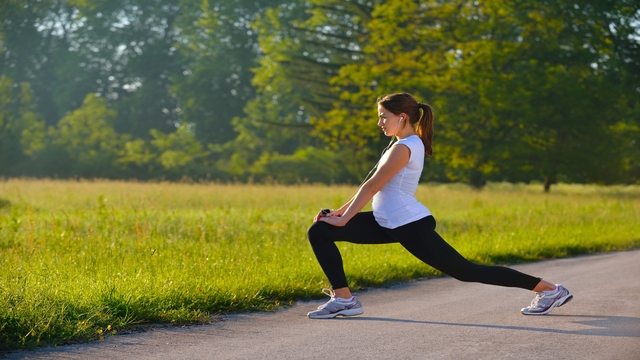 Benis Arapovic/PhotoSpin
In the heat and humidity of summer, it is not uncommon to develop jock itch in one's groin area and along one's inner thighs. Jock itch can occur in both men and women, though it is more common in men. The official name for jock itch is tinea cruris and can occur when moisture or sweat becomes trapped in skin folds allowing fungus to grow.
Jock itch is more common in those who wear tight clothing (especially during exercise) or who are around heat and humidity. People who are obese are more susceptible. The most common fungus that causes jock itch, Trichophyton rubrum, is the same fungus that causes athlete's foot and the infection may possibly have been spread from one's feet to the groin.
The rash is red, itchy with raised papules that can spread from the groin folds to the buttocks, anal areas and down the inner thighs. According to dermatology.about.com, if the penis or vagina are affected, then the problem is not caused by Trichophyton rubrum alone, but an additional Candida infection has infected those areas.
Another rash that looks similar to jock itch is called intertrigo, which is not caused by the same fungus as jock itch. Intertrigo also appears as a reddened rash but bacteria or another type of fungus infects the moist areas in the skin creases. Women can get intertigo under their breasts or in the skin folds under their abdomen, if they are obese.
A doctor diagnoses jock itch by looking at a scraping of the skin under a microscope. Questions about immune status and history of diabetes will also be asked as people with those conditions are more susceptible to fungal infections of the skin. Since jock itch is contagious and can be passed between people, it is important to avoid sexual contact or sharing of towels.
Treatment:
Jock itch is effectively treated with topical anti-fungal creams since the infection only affects the top skin layer. Over the counter and prescription strength creams may be used. Your doctor can determine which is best to take and if you have athlete's foot, it should be treated at the same time, though feet will need a longer treatment time. Topical hydrocortisone cream may be used if the rash is especially itchy. Oral anti-fungals are only used in more severe cases since they cause other side effects.
Preventions:
--Do not share towels or other personal items with others.
--Avoid having sex if your partner has symptoms of a genital rash.
--Wear loose clothes, especially in summer.
--Change exercise clothes daily and wash them after exercising.
--Change underwear daily and men should wash athletic supporters after exercise.
sources:
www.emedicinehealth.com/jock_itch/article_em.htm
http://dermatology.about.com/cs/fungalinfections/a/jockitch.htm
www.mayoclinic.com/health/jock-itch/DS00490
Michele is an R.N. freelance writer with a special interest in woman's healthcare and quality of care issues. Other articles by Michele are at www.helium.com/users/487540/show_articles
Tags: