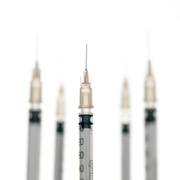 Paul Tearle/Stockbyte/Thinkstock
An asthma drug called omalizumab has been found to help the debilitating symptoms of chronic hives, also known as chronic idiopathic urticaria, or chronic spontaneous urticaria.
A clinical trial study of 323 patients tested three different doses of the drug. It was found that the highest dose, injected once a month for three months, showed the most improvement in the patients' conditions.
Patients were recruited from around the world, from 55 different institutions. Results of the study were published Feb. 24, 2013 on the online New England Journal of Medicine.
Chronic idiopathic urticaria hives affect approximately 3 million Americans, according to Sarbjit (Romi) Saini, M.D., a Johns Hopkins allergist and immunologist, and study co-investigator in a press release.
Twice as many women as men get the condition. People with chronic hives may develop swelling of their eyes, hands, face, lips and throat, which may cause difficulty breathing.
During flare-ups, the disease can be severe enough that patients do not leave their homes. This can cause them to feel socially isolated and may result in lost time from work.
Current treatment includes antihistamines, steroids and immunosuppressive drugs but they may not work, leaving a gap in how to help these patients.
All of the patients in the study had had chronic hives for over six months where antihistamines had not helped after one week of treatment.
This new option of omalizumab could provide a safe, non-sedating, well-tolerated treatment for them to consider, suggested Saini.
The participants were mostly women between the ages of 12 and 75 years old. They were assigned randomly one of three doses of omalizumab.
Either 300, 150 , 75 milligrams or placebo were injected once a month for three months. They were monitored for four additional months after treatment ended.
According to Saini, "initial relief from symptoms was quick and occurred after a week."
The press release went on to say, "after three months, 53 percent of people experienced a total elimination of all hives and 44 percent had no further incidents of hives or itch. Lower doses of the drug, at 150 milligrams and 75 milligrams, and the placebo (or 0 milligrams) proved half as effective as the next larger dose, or had almost no effect at all."
The risk of side effects was low among all the groups, though highest in the 300 mg group.
Omalizumab is a drug that reduces the allergic response in the body. When alIergens such as pollen or dust connect to IgE receptors a wave like release of histamine results setting off an allergic response. Omalizumab binds up IgE and lowers the number of IgE receptors and other histamine-carrying immune cells.
Researchers are not entirely sure how omalizumab helps block the eruption of chronic hives but further research is planned to study why the drug is effective.
The clinical trial was a joint venture between Genentech and Novartis. Clinical trials are required before omalizumab, brand name Xolair, could be marketed as a treatment for chronic hives.
Saini is a paid consultant to both Genentech and Novartis, omalizumab's marketer and manufacturer, respectively, which funded the latest study.
According to Examiner.com, the price for omalizumab currently runs $1,200 to $1,600 a dose.
Sources:
Public release date: 24-Feb-2013. Asthma drug found highly effective in treating chronic, severe hives and itch. Eureka Alert. Web Feb. 26, 2013.
http://www.eurekalert.org/pub_releases/2013-02/jhm-adf022113.php#
Asthma drug could relieve itch of chronic hives. Examiner.com. Web. Feb 26, 2013.
http://www.examiner.com/article/asthma-drug-could-relieve-itch-of-chroni...
Maurer, Marcus M.D. et al. Omalizumab for the Treatment of Chronic Idiopathic or Spontaneous Urticaria. New England Journal of Medicine Online. February 24, 2013DOI: 10.1056/NEJMoa1215372
http://www.nejm.org/doi/full/10.1056/NEJMoa1215372?query=featured_home
Michele is an R.N. freelance writer with a special interest in woman's healthcare and quality of care issues. Other articles by Michele are at www.helium.com/users/487540/show_articles
Edited by Jody Smith