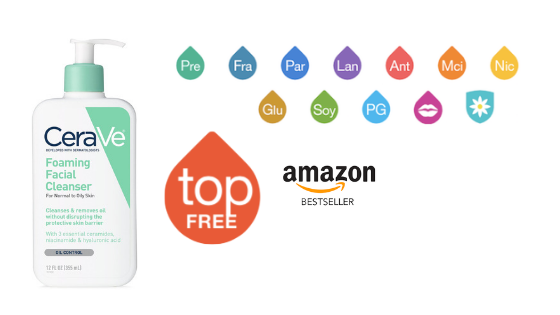 Product reviews, price points, and packaging are important to many shoppers but for people with sensitive skin and allergy-prone skin, the ingredients are the most important part. Amazon sells thousands of skincare products and sometimes it can be overwhelming while searching for a new beauty favorite.
SkinSAFE ranks all products based on how free they are from the top most common allergy-causing ingredients. If a product is free of the top common allergens, SkinSAFE gives it a score of "Top Free".
Below is a list of products that have it all. Great reviews, trusted brands, and most importantly a Top Allergy-Free score.
1.EltaMD UV Lotion Broad-Spectrum SPF 30+
•This zinc oxide sunscreen protects against UVA & UVB rays from the sun.
•Lightweight lotion and can be worn every day, even under makeup.

SkinSAFE Rating: Top Allergen Free

Amazon Rating:4.5/5 stars

Price: $35

2.Aquaphor Original Formula Ointment
• Great for chapped lips, dry hands and cuticals, cracked heels and feet, friction and minor burns.
• Multi-purpose ointment
• Soothes skin

SkinSAFE Rating: Top Allergen Free

Amazon Rating: 4.5/5 stars

Price: $12.97

3. Vanicream Moisturizing Skin Cream
• Can be used as a night cream or daily moisturizer.
• Can be used on the face, hands and body.
• Gentle lotion that is non-greasy
It is gentle on your face and helps with dryness--restoring moisture back into your skin. Product can be used by teenagers and is safe to use around your lips.

SkinSAFE Rating: Top Allergen Free

Amazon Rating: 4.5/5 stars

Price: $12.76

4.CeraVe Foaming Facial Cleanser
• Formulated with hyaluronic acid
• Cleanses and removes oil without irritating the skincare barrier
• For normal to oily skin

SkinSAFE Rating:Top Allergen Free

Amazon Rating: 4/5 stars

Price: $12.91

5.Cetaphil Gentle Skin Cleanser
• Gentle enough for children, teens, and adults
• Moisturizing
• Does not strip the skin of natural oils
• Everyday cleansing

SkinSAFE Rating:Top Allergen Free

Amazon Rating: 4/5 stars

Price: $11.31
Read more in HER Beauty