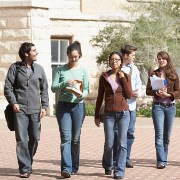 Photo: Getty Images
Mainstream media and entertainment sources tend to imply that a majority of young adults -- especially college students -- are having sex. And while there is nothing wrong with having sex if you do it safely, when you are ready and on your own terms, the belief that "everybody is doing it" is not based on facts.
There are many young men and women who abstain from intercourse despite the supposed peer pressure to "go all the way."
I was lucky enough to interview one of these amazing women, a 20-year old junior at the University of Wisconsin-Madison, who is majoring in Zoology. For the sake of privacy and convenience in this article, I will refer to her as Emma.
Emma was articulate, enthusiastic and very willing to share intimate details of her life with a relative stranger. Without blinking an eye, she answered a range of questions from her experience volunteering with the local zoo education program to her beliefs on anal sex.
She is in a committed relationship with a man who she feels physically and emotionally connected to. She is also a virgin.
I jumped right in with the money question:
Hannah: "Why are you abstinent?"
Emma: "I think it all started because my mom raised me to be that way. I grew up Catholic, but religion never really had anything to do with the decision -- it was more what my mom repeated to me, growing up. 'Don't have sex until you are married, don't have sex until you are married.'
"I guess it stuck with me, even though I didn't really think about it much until high school. Boys started asking me out -- even when I knew they had girlfriends already -- and I realized they were mostly all jerks. I wasn't going to have sex in high school when that was the quality of men. Later, I had a relationship with an older guy, that fell apart in sort of a dramatic way, and I was glad that I hadn't had sex with him, that I waited.
"Being a virgin has become a special thing to me, a thing that is unique. It's mine and I'm not going to 'give' it to anyone else. I just don't want to lose my virginity in a fraternity house, you know?"
Hannah: "So, what does it mean to you, that you are abstinent? What constitutes sex in your eyes?"
Emma: "No vaginal intercourse, but I've been sexually active with my boyfriend -- we've done other things besides have sex."
Hannah: "For you, what is the difference between general sexual activity or being intimate and actual vaginal penetration?"
Emma: "I guess my mom always said that virginity is something you can share with your husband on your wedding night but I'm not sure. I guess intercourse just feels like it is on sort of a different level. People always talk about 'losing it' or 'giving it away' and nothing else has that terminology.
"Intercourse is as far as you can go and I want to keep that for myself. I am more in control of my sexual activity that way."
Hannah: "Living on a big college campus, do you ever feel pressured by your peers to have sex?"
Emma: "No, not really. Especially because I have my own sexual experiences anyway. Whenever I mention it, not one person has ever made fun of the decision. I actually get a lot of 'good for you's,' like I just ran a marathon or something! People feel like there might be a stigma about being a virgin, but there really isn't!"
Hannah: "How about with past partners or your current boyfriend?"
Emma: "My boyfriend was a virgin when we met, so it was never really too much of an issue. I told him right up front, one of the first times we were making out, 'I'm a virgin, I'm not going to have sex.' He was okay with it, and has adapted my mindset since then. He hadn't thought about it before, but now feels like he wants to wait until marriage also."
Hannah: "What is the message you would like to send to other women who might be virgins, or who are undecided about whether they want to have vaginal intercourse?"
Emma: "Don't let anyone pressure you in any way, either to stay abstinent or to be sexually active. You have to figure out what you want for yourself, not a partner, not friends. It's your body, its what you want to do. Just do it in a safe way."
Note: Emphasis on safety! Even if you choose to be abstinent, you should absolutely educate yourself on precautions and options pertaining to sexual health.
While you may not think you need the information yourself, someone you know may benefit from facts about protecting yourself against pregnancy and STDs. You should also still visit a doctor for regular check-ups.
Please feel free to express your own thoughts on the topic of virginity and abstaining until marriage. And don't forget to give a big shout out to brave women like Emma who are willing to share their own stories with others.
Edited by Malu Banuelos