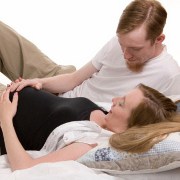 Photo: Getty Images
Many pregnant couples are hesitant to become intimate because they are nervous it will negatively impact the fetus. Men often express a fear of "poking the baby in the face," and women verbalize anxiety not only about their future child's safety, but also about the altered shape and increased weight of their growing bodies. Luckily for you, unless your medical provider has indicated otherwise, there is no reason you shouldn't engage is some sexy time together.
Intimacy and orgasms have proven health benefits -- stress alleviation, pain relief, surges of endorphins and oxytocin (a hormone that is especially important during pregnancy), some light cardiovascular exercise, not to mention the opportunity to connect physically and emotionally with someone who cares for you tremendously ... no matter what size you are.
This is why in most situations, if you are feeling interested in sexual activity go for it! Check out these positions, recommended by pregnant ladies who had sex, lived to tell the tale, and even enjoyed it! An awesome side note: many women were able to orgasm or experience multiple orgasms during intercourse for the first time while pregnant! (Disclaimer: this should not be an incentive to become pregnant.) So get creative and enjoy yourself.
1. Big Dipper Spoon
Lie on your side in the cuddling position known as "spooning" with your partner penetrating you from behind. This angle keeps your belly out of the way, prevents you from bearing any weight with your arms, and allows your partner to easily caress your sensitive breasts, or if reachable, your clitoris. The pose also directs a penis or penetrating toy towards your G-spot, creating excellent opportunity for a combination clitoral-vaginal orgasm.
2. Defying Gravid Gravity
As always, while on top, a woman is able to control the speed and force of penetration, moving at the interval that feels most pleasurable to her. If you are self-conscious about the weight of your pregnant belly, try having sex while your partner is sitting on a couch or chair. This will keep your tummy suspended in between your bodies, facilitate some deep eye contact and ensure that you are rubbed in all the right spots with no worries of feeling too heavy. One caution: if you remain in this position for a long time, your legs may feel cramped or sore. Remember to stretch them out after sitting this way, and consider switching up your positions regularly.
3. Putting Some Buns in that Oven
On hands and knees with your partner penetrating you from behind, this is a great hybrid of the two previous positions. Your partner has easy access to your breasts, clitoris, and the sensitive button on the front wall of your vagina (the G-spot), but you are able to control the force of the thrust by arching or leaning into the motion in whatever way feels best to you. You can support yourself with your arms, or choose to lean on top of a pillow to give you some extra leverage and avoid too much pressure on your wrists.
These are only three options of many that couples enjoy while nurturing a fetus. Please feel free to share your favorite positions below! And if you have been nervous to give in to your natural sexual urges, rest assured that it will not harm your future baby -- and may even do him/her good! After all, it's what put them there in the first place!
Sources:
Mayo Clinic Staff. (June 2010). "Sex During Pregnancy: What's Okay and What's Not." http://www.mayoclinic.com/health/sex-during-pregnancy/HO00140
Ask Heidi. "Sex Positions During Pregnancy." What To Expect. http://www.whattoexpect.com/pregnancy/ask-heidi/sex-positions-during-pregnancy.aspx
Admin. (June 2011.) Sex Positions During Pregnancy. http://sexpositionsduringpregnancy.com *(Great Pictures and descriptions on this website.)
Reviewed September 1, 2011
by Michele Blacksberg R.N.
Edited by Malu Banuelos