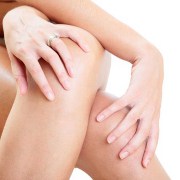 Photo: Getty Images

Have you ever tried to relax after a long day in your favorite recliner only to have a creepy-crawly, jumpy feeling in your legs? You feel like you want to kick your feet or shake your legs, but the sensation continues until you get up and become active again. This may also occur when you are sitting in an airplane and your legs just will not stay still. If this has happened to you, you may be suffering from restless leg syndrome (RLS).
About 10 percent of the U.S. population has RLS. According to the National Institute of Neurological Disorders and Stroke (NINDS), "several studies have shown that moderate to severe RLS affects approximately 2-3 percent of adults (more than 5 million individuals). An additional 5 percent appears to be affected by a milder form." However, there are several ways, both medical and alternative, to alleviate the frustrating symptoms of RLS.
Although a number of medications have been used for treating RLS, Mirapex and Requip have been approved specifically for this condition by the U.S. Food and Drug Administration. Both are dopamine-based. Unfortunately, augmentation may occur with dopamine-based medication after long-term use, which may cause an earlier onset of symptoms, possibly with more intensity, the sensations may effect other body parts, and the duration of relief from the medication may become shorter.
UCB in Brussels has completed new 5-year data that showed that the medication Neupro® (rotigotine) demonstrated continued symptomatic clinical benefit with a low risk of augmentation. On-going research is being done in this area so be sure to discuss these important issues with your doctor.
A number of alternative remedies have been said to relieve RLS and are considerably less risky. Supplements such as iron, folic acid, vitamin B, and magnesium may be helpful. In addition, a warm bath before retiring for the night may also help relax the legs. Some patients have found relief wearing warm or heated-up socks. Acupuncture and electric nerve stimulation may be another option. Researchers at the National Institute of Neurological Disorders and Stroke (NINDS) are investigating the possible dopamine connection with the symptoms of RLS. A recent article on aolnews.com reported that a patient eased his symptoms of RLS with sex and masturbation. "The chemical release of dopamine in the brain triggered by masturbation and sexual intercourse could ease the symptoms," said sleep specialist and RLS expert, Dr. Mark Buchfuhrer. In my opinion, treatments of this nature are far more appealing than taking a pill.
Whether you treat your RLS symptoms with prescribed medication or use alternative methods, make sure you do plenty of research to choose the safest and most effective method for you.
Sources:
http://www.ninds.nih.gov/disorders/restless_legs/detail_restless_legs.htmhttp://www.mayoclinic.com/health/restless-legs-syndrome/DS00191/DSECTION...
http://www.drugs.com/clinical_trials/new-data-show-low-incidence-augment...
http://www.medicinenet.com/restless_leg_syndrome/page3.htm
http://www.aolnews.com/2011/04/07/masturbation-may-help-to-relieve-restl...
Reviewed May 19, 2011
Edited by Alison Stanton