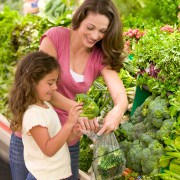 Photo: Getty Images
We have all read a lot about the goodness broccoli has to offer in terms of its antioxidant properties and detoxifying qualities, the wealth of vitamins and minerals it is endowed with and how we should include x number of servings of the vegetable in our meals every week to prevent us from getting cancer. (Source: WHFoods; Article Title: Broccoli - What's New and Beneficial about Broccoli; URL: http://www.whfoods.com/genpage.php?tname=foodspice&dbid=9)
The tough part is the implementation. Broccoli is usually eaten either steamed or boiled. At times it could also be served raw as a component of appetizers. Broccoli, because of it's unique flavor, is not very palate friendly to some people. This makes it hard for many mothers to have their children eat the vegetable.
Here's a recipe I have stumbled upon after trying many variations and styles of cooking broccoli – some of the twists guided by intuition. In the end, it has worked for our home. Our preteen twin daughters now accept and eat the broccoli on their plate!
INGREDIENTS:
• 1 medium-sized broccoli
• 1 tablespoon of sunflower oil (or cooking oil of your choice)
• 1 teaspoon of cumin seeds
• ½ teaspoon of turmeric powder
• 1 teaspoon of salt
• ½ a lemon – de-seeded
• 50 grams of fresh ginger root – washed and shredded
• Fresh cilantro leaves – rinsed and chopped
INSTRUCTIONS:
• Wash the broccoli well and cut them into medium-sized florets (not too small)
• Warm sunflower oil (or cooking medium of your choice) in a non-stick vessel on high heat/flame.
• Pop in the cumin seeds and the shredded ginger root. Stir fry for 1 minute on high heat/flame.
• Lower the heat/flame to moderate.
• Add the broccoli florets and sauté for 1 minute.
• Add turmeric powder, salt and juice of half a lemon to the sautéed broccoli florets.
• Lower the heat/flame to low. Cover the non-stick vessel with a lid and let it cook on low flame.
• Open the lid every 5 minutes and stir once – taking care not to break the florets.
• Add the rinsed and chopped cilantro leaves.
• Turn off the heat after 20 minutes on low flame.
You can serve it as a tasty side dish or along with lunch or meal as a stand alone dish or as a combination – to go along with pasta or rice or bread.
The table (Source: USDA Nutrient Database) shows the nutritional value of 100 grams or 3.5 ounces of broccoli. The percentages mentioned in brackets are relative to U.S. recommendations for adults.
• Carbohydrates 6.64 g
o Sugars 1.7 g
o Dietary fiber 2.6 g
• Fat 0.37 g
• Protein 2.82 g
• Water 89.30 g
• Vitamin A equiv. 31 μg (3%)
o Beta Carotene 361 μg (3%)
o Lutein and Zeaxanthin 1121 μg
• Thiamine (Vit. B1) 0.071 mg (5%)
• Riboflavin (Vit. B2) 0.117 mg (8%)
• Niacin (Vit. B3) 0.639 mg (4%)
• Pantothenic acid (B5) 0.573 mg (11%)
• Vitamin B6 0.175 mg (13%)
• Folate (Vit. B9) 63 μg (16%)
• Vitamin C 89.2 mg (149%)
• Vitamin E 0.78 mg (5%)
• Vitamin K 101.6 μg (97%)
• Calcium 47 mg (5%)
• Iron 0.73 mg (6%)
• Magnesium 21 mg (6%)
• Phosphorus 66 mg (9%)
• Potassium 316 mg (7%)
• Zinc 0.41 mg (4%)
INFORMATION IN THIS ARTICLE IS NOT MEDICAL ADVICE. ALL INFORMATION GIVEN IS TO BE CHECKED WITH YOUR DOCTOR BEFORE IMPLEMENTING OR TAKING THEM AS STANDARD OR VERIFIED.
Reviewed July 11, 2011
by Michele Blacksberg R.N.
Edited by Alison Stanton
Mamta Singh is a published author of the books Migraines for the Informed Woman – Tips From A Sufferer: ISBN: 978-81-291-1517-1 (Publisher: Rupa & Co. URL: http://www.amazon.com/Migraines-Informed-Woman-Tips-Sufferer/dp/8129115174/ref=sr_1_2?ie=UTF8&s=books&qid=1298990756&sr=1-2), Mentor Your Mind – Tested Mantras For The Busy Woman: ISBN: 978-81-207-5973-2 (Publisher: Sterling Publishers; URL: http://www.sterlingpublishers.com/search_result.asp) and the upcoming The Urban Woman's Integrated Fitness Guide (Publisher: Hay House India). She is also a seasoned business, creative and academic writer. She is a certified fitness instructor, personal trainer & sports nutritionist through IFA, Florida USA. Mamta is an NCFE-certified Holistic Health Therapist SAC Dip U.K. She is the lead writer and holds Expert Author status in many well-received health, fitness and nutrition sites. She runs her own popular blogs on migraines in women and holistic health. Mamta holds a double Master's Degree in Commerce and Business. She is a registered practitioner with the UN recognised Art of Living Foundation. Please visit www.mamtasingh.com