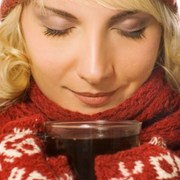 Photo: Getty Images
When most of us think of cocktails we inwardly smile. Whether we are looking forward to releasing the stress of the day or spending time with family and friends, there's something about a cocktail that feels like a treat.
Around the holidays, this sense of family, friendship and releasing the stress of every-day routines can be enriched with holiday cocktails. They can be pretty and artistic, whimsical and light-hearted, fun and fanciful. They can also be warm, full of spices, thick, dessert-like, and different from the cocktails you have all year long. Holiday cocktails are as American as apple pie and can add a festive note to any holiday gathering.
The great thing about cocktails is that they can be light and decorative, dark and mysterious, sweet and comforting, or even healthy! There are cocktails without alcohol, such as the ones I'd like this year, and the ones the kids will be sure to love.
We experiment with berry seltzers and syrup and create raspberry, strawberry and blueberry soda, vanilla-eggnog milkshakes, peppermint caramel mochas, Shirley Temples and so much more. We like to call these "mocktails," and get as creative as we can, adding the spices of the holiday season, alcohol-free eggnog, cinnamon, allspice, vanilla, nutmeg and more.
For those with a taste for alcohol, taking the tasty beverages of autumn and winter and adding a blend of your favorite liqueur can warm the pit of your stomach and the cockles of your heart. Hot chocolate, white hot chocolate and other comforting, warm drinks can be made into cocktails with complementary alcoholic additions such as brandy, cognac, rum and even peppermint Schnapps.
Pairing wine with your meal will add a festive and elegant ambience to your gathering. In fact, excellent, well-paired wine can even enhance the flavor of the food you're cooking, bringing out certain textures, flavors and subtlety of the food that makes it that much richer.
Mixing drinks together can be as much fun and as tasty and colorful as making dessert. Ideas for punches, martinis, cosmopolitans and others can be as endless and creative as the very bounds of your imagination, as long as you taste small amounts of your creations to be sure the ingredients go well together.
Also, keep in mind that even though the wind may be howling and the temperature dropping, going with a more tropical theme for your holiday cocktails is perfectly acceptable. Warming up inside, near the fire with a fruity cocktail and a piece or two of pineapple floating inside is lovely and delicious.
You can create a sense of being somewhere far away and hear the ukuleles playing, feeling the sand under your toes, even if you're simply cuddled up on the couch in your living room with your kids, your dog, and your holiday spirit.
Sources:
foodNetwork.com. Holiday Central 2011. The Best Cocktail Recipes
Retrieved from the internet on November 18, 2011
http://www.foodnetwork.com/holiday-central-cocktails/package/index.html
Southern Living. Spirited Holiday Cocktails.
Retrieved from the internet on November 18, 2011
http://www.southernliving.com/food/holidays-occasions/our-editors-top-10-holiday-cocktails-00400000034206
Aimee Boyle is a regular contributor to EmpowHER
Edited by Jody Smith