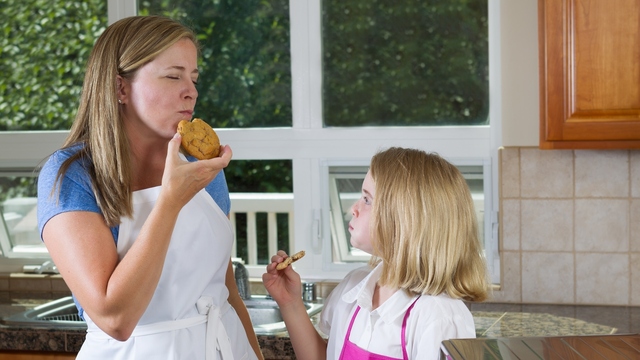 Tom Baker/PhotoSpin
Cookies!!!
Everyone, including Santa Claus, likes holiday cookies. We drink milk with them, we dunk them in our coffee, and we make them with love and good cheer. A cookie can even put a smile on a crying child's face.
Cookies have wonderful names in other countries. I love how Australians, Kiwis (New Zealanders) and the English call them biscuits. Koekje (which means small or little cake) is the Dutch version of cookie.
My Italian friends have different names for cookies, like biscotti or amaretti. Galletas is the name for cookies in Spain. In Germany, cookies go by the name of keks and Christmas cookies are Plätzchen.
According to WhatscookingAmerica.net, ʺculinary historians [believe] the first historic record of cookies was their use as test cakes. A small amount of cake batter was baked to test the oven temperature.ʺ
Cookies come in all shapes, sizes and flavors. During the holidays cookies can be made from ginger, chocolate, fruit and even candy canes.
During the holidays, making these delicious treats as a family is a fantastic way to spend some quality time together. Also, cookie exchanges are very popular this time of year with friends and neighbors.
One of my friends has a cookie exchange every year where she hosts a party at her house and everyone makes two batches of cookies. One batch is for everyone to enjoy at the party and the other batch is a parting gift to those who baked. The cookie exchange allows everyone to share family holiday cookie recipes and their holiday traditions.
It is hard to avoid the temptation of these delightful little treats during the holidays, especially when cookies litter festive tables and appear as gifts from neighbors and family.
However, for those who are watching their weight and don't want to slip on their fat pants after the holidays, we have added a couple of low-calorie recipes and holiday cookie websites.
The Vanilla Spritz cookies are 60 calories each and the Coconut, Cherry, and Chocolate Oatmeal Cookies are only 95 calories each.
This holiday season, Betty Crocker is offering 24 days of their famous Christmas cookie recipes. Starting December 1, you can receive emails with holiday cookie recipes.
HealthyEating's website offers five recipes of holiday cookies which are all under 100 calories.
Sources:
History of Christmas Cookies. Christmas. Retrieved December 14, 2014 from
http://www.christmascarnivals.com/christmas-history/history-christmas-cookies.html
History of Cookies, Cookie History, All about the history of cookies. What's Cooking America, Thanksgiving Dinner Planning, Prime Rib Roast Dinner, Thanksgiving Turkey Dinner, Ham Dinner, Southwest Thanksgiving Dinner. Retrieved December 14, 2014.
http://whatscookingamerica.net/History/CookieHistory.htm
Reviewed December 15, 2014
by Michele Blacksberg RN
Edited by Jody Smith