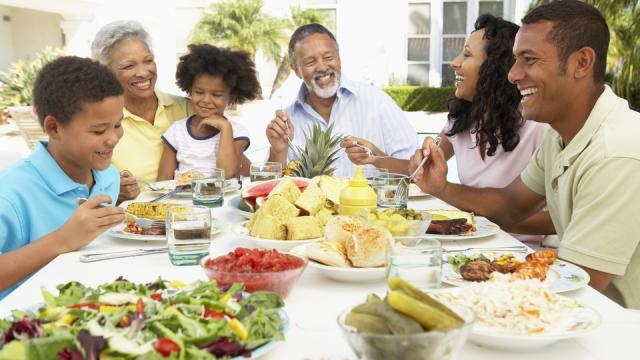 MonkeyBusiness Images/PhotoSpin
The 4th of July is a great holiday to celebrate with family and friends, and usually there's tasty food involved. But that doesn't mean you have to completely give up any healthy eating habits. Check out these healthy and delicious recipes to try at 4th of July festivities this year!
1) Red, white and blue potato salad:
This is a great twist on regular potato salad that is in the spirit of the 4th of July. The potato salad combines red, fingerling and blue potatoes and also exchanges mayonnaise for lighter olive oil and red wine vinegar.
2) Corn and black bean salad
Corn and black bean salad is a healthy side dish that mixes together corn, black beans, garbanzo beans, red bell pepper and mango. This colorful blend of veggies and fruit is not only healthy, it can also be thrown together in minutes.
3) Grilled chicken and shrimp kebabs
What 4th of July is complete without some barbecue? Marinate chicken and shrimp with lemon juice, garlic, salt and pepper, then throw on the barbecue for a tasty main dish.
4) Blueberry, strawberry and jicama salsa
Ditch your basic salsa this year for a festive red, white and blue one. This dish is a great appetizer with some tortilla chips, and is refreshing on a hot summer day.
5) Turkey burgers
Looking for a healthier alternative to basic burgers? Replace the red meat with lean ground turkey. Serve on a multigrain bun or wrapped in lettuce, and add your favorite toppings.
6) Jalapeño-lime coleslaw
This coleslaw recipe replaces mayonnaise with olive oil and fresh lime juice for a more nutritious side dish. Adding jalapeño to the mixed cabbage, red onion, cilantro and carrots also adds some extra spice.
7) American flag vegetable tray
An American flag vegetable tray is sure to be a hit at a 4th of July party. Line up cucumbers, radishes, cauliflower, grape tomatoes and red peppers horizontally on a tray, alternating between red and white colors. Add blue food coloring to dill dip in a small square container and place it in the top-left corner of the tray.
8) Patriotic quinoa salad
Quinoa is a great choice for a healthy and nutritious side dish. Add chopped blueberries and strawberries and citrus dressing for a pop of patriotic color and more flavor.
9) Blackberry cobbler
Blackberry cobbler has the sweetness of dessert while also having natural fruit. Mix in some raspberries with your blackberries for a more patriotic dessert.
10) Red, white and blue yogurt popsicles
These popsicles are an extremely refreshing summer treat and only need three ingredients. Layer vanilla Greek yogurt and pureed raspberries and blueberries in popsicle holders, then freeze overnight.
Edited by Jody Smith