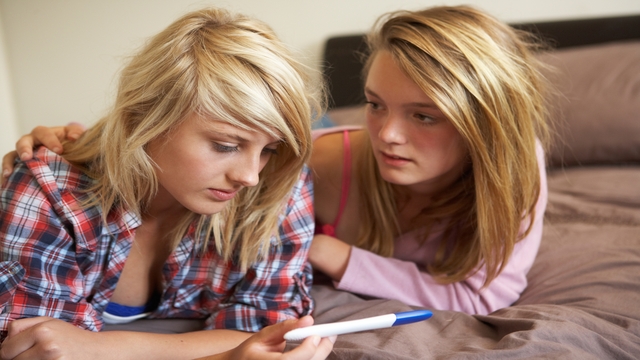 MonkeyBusiness Images/PhotoSpin
New data shows the birth rate for American teenagers is at a record low, fewer women overall are giving birth and nearly one in every three births is now by cesarean section.
The 2009 birth rate for U.S. teens is the lowest ever recorded in seven decades of tracking teenage childbearing. The rate for teens aged 15-19 years was 39.1 births per 1,000 teens, down six percent from the 2008 rate of 41.5 births per 1,000. Birth rates for younger and older teens and for all race/ethnic groups reached historic lows in 2009. In contrast, during the peak year of teen births, 1957, there were about 96 births per 1,000 teen girls.
The general fertility rate fell from 68.6 births per 1,000 females aged 15-44 per year in 2008 to 66.7 in 2009. The total number of births declined from 4,247,694 in 2008 to 4,131,019 in 2009. This decline appears to be continuing into 2010, based on early birth counts from January-June of this year.
Other findings:
The total number of births to unmarried mothers went down almost 4 percent in 2009 to 50.6 per 1,000 aged 15-44. It's the first decline since 1997. However, the percentage of all births to unmarried mothers was up slightly from 40.6 percent in 2008 to 41 percent.
The birth rate for women in their early twenties fell seven percent in 2009, the largest decline for this age group since 1973. The rates also fell for women in their late twenties and thirties. The birth rate for women in their early forties increased in 2009.
Cesarean deliveries are now at an all time high of 32.9 percent, meaning nearly one in three babies was delivered via C-section in 2009. As recently as 1996, the C-section rate was 20.7 percent, just over one in five of all U.S. births. Since 1996, the C-section rate has increased nearly 60 percent.
The data was released by the Division of Vital Statistics at the Centers for Disease Control (CDC) and is based on birth records collected in all 50 states, the District of Columbia and U.S. territories. The report also notes declines in the overall fertility rate—the average number of births that a group of women would have over their lifetimes—and the total number of U.S. births.
The full report is available at www.cdc.gov/nchs.