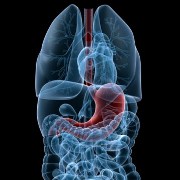 Photo: Getty Images
Pneumothorax, which is also known as a collapsed lung, cannot be prevented and can occur for no obvious reason. Any blunt or penetrating injury to the chest can cause lung collapse. Some injuries may happen during a trauma such as an accident or an assault.
Others may inadvertently occur during certain medical procedures, e.g., cardiopulmonary resuscitation (CPR), chest tube insertion, lung biopsies with a needle through the chest wall, or certain procedures using a scope down the throat and into the lung. In addition, lung damage from an underlying condition or disease (such as emphysema, pneumonia, lung cancer, cystic fibrosis, or tuberculosis) makes lung collapse more likely.
Pneumothorax can also result from ruptured blebs in people who are otherwise healthy. Blebs are small air blisters that can develop on the top of the lung. It's unclear why these blebs appear on some people's lungs as opposed to others. But, the blebs occur more often on the lungs of people who are tall and thin.
Blebs themselves do not constitute a lung disease. And, when blebs rupture, it usually happens for no apparent reason. Blebs can rupture due to changes in air pressure from scuba diving, airplane flight or mountain climbing at high altitudes.
In addition, a severe type of pneumothorax can occur in people who need ventilation (mechanical assistance) to breathe. A ventilator pushes and pulls air in and out of the lungs and can create an imbalance in the air pressure within the chest. In such case, the lung may collapse partially or completely. And, the heart may be squeezed to the point that it doesn't work properly.
Men, people in their 20s-40s, people who are tall and thin, and smokers have a higher likelihood of pneumothorax, especially if they have had two or more collapsed lungs in the past. In addition, it appears that certain types of pneumothorax run in families.
Since there are many conditions that mirror the most common pneumothorax symptoms (which are chest pain and shortness of breath), people experiencing these symptoms should seek medical attention immediately. This is particularly the case if the chest pain is severe or breathing becomes increasingly difficult.
A severe pneumothorax is a medical emergency with complications that may include: low blood oxygen levels (hypoxemia), respiratory failure, cardiac arrest and/or shock. Severe pneumothorax can be fatal.
Sources:
Pneumothorax Causes. Web. www.mayoclinic.com. Accessed 16 Nov. 2011
http://www.mayoclinic.com/health/pneumothorax/DS00943/DSECTION=causes
Pneumothorax. Web. www.ncbi.nlm.nih.gov. Accessed 16 Nov. 2011
http://www.ncbi.nlm.nih.gov/pubmedhealth/PMH0001151
Reviewed November 16, 2011
by Michele Blacksberg RN
Edited by Jody Smith
Tags: