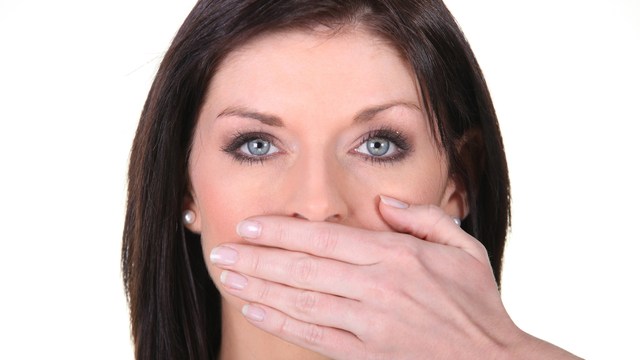 Auremar/PhotoSpin
I'm mortified to admit it, but here goes: I have gum disease.
It's not something I am particularly proud to confess mind you, yet I have to come to grips with that new reality sooner rather than later. The discovery came just a couple weeks ago, after a trip to my dentist revealed "the good, the bad and the ugly."
I'm equally horrified to tell you I felt better after learning nearly 75 percent of all American adults over age 30 have some form of gum disease. As the old saying goes, misery loves company and statistically speaking, I'm not alone.
If you are thinking, "Eh, gum disease, what's the big deal?" I hear you, sister. I used to think the same thing.
Then I learned gingivitis — the mildest form of gum disease — and its much more sinister relative, periodontitis, can affect more than just a person's mouth.
Left untreated, gum disease can lead to or worsen, all kinds of health problems from heart disease and stroke, osteoporosis, rheumatoid arthritis, diabetes, respiratory disease such as pneumonia and bronchitis, and even kidney, pancreatic and blood cancers.
Though a cause-and-effect relationship hasn't been scientifically established, the general consensus is that the 500 different types of bacteria in our mouths can penetrate through the tissue/blood barrier and enter our bloodstream where they can wreak systemic chaos.
While gum disease can be caused by poor oral hygiene habits — not brushing and flossing as well or often as one should—that's not the only culprit.
When our teeth and gums are not cared for properly, all that bacteria colonizing inside our mouths that's responsible for breaking down food we eat, can cause some nasty irritation and inflammation of the gums.
During the process, harmful and toxic byproducts are released, causing our gums to get sore, bleed, and eventually pull away from the teeth, giving them a longer than normal appearance and eroding the bones that anchor them.
While we learn about the importance of regular brushing in primary school, I was unaware that being a woman can just as easily contribute to the risk of gum disease. Thanks Mother Nature!
That's right, just like hot flashes and PMS, a woman's periodontal health can be impacted by increased sex hormonal changes during puberty, menstruation, pregnancy and menopause, even if her oral hygiene is maintained.
And get this: Pregnant women who have periodontal disease are at a greater risk of delivering a baby that is too early and too small, according to the Academy of Periodontology.
Similarly, Charlene Krejci, associate clinical professor at the Case Western Reserve University School of Dental Medicine found mouth bacteria that enters the blood stream is associated with fetal death.
According to Krejci, there's definitely a gender-specific connection between women's hormones, gum disease, and specific women's health issues.
"Although women tend to take better care of their oral health than men, the main message is women need to be even more vigilant about maintaining healthy teeth and gums to prevent or lessen the severity of some of women-specific health issues," Krejci said in an university press release.
She recommended in addition to the brushing and flossing daily regimen "that women visit the dentist at least every six months, and more if there are any gum problems found or if you suffer from bone loss or are pregnant."
Since it's widely known that hormones cause some women gum problems during pregnancy, Krejci said that it's advisable for women who already susceptible to gum disease to get their oral problems treated before becoming pregnant.
"Although pregnant women were once discouraged from seeing the dentist until after giving birth, she said that scaling and planing the roots of teeth to eliminate some gum disease is now recommended during pregnancy. Severe gum disease requiring surgery is still generally postponed until after the baby's birth," according to the release.
Her overview of the literature was reported in the May 2012 issue of Oral Health and Preventive Dentistry.
Lynette Summerill is an award-winning writer and Scuba enthusiast who lives in San Diego with her husband and two beach loving dogs. In addition to writing about cancer-related issues for EmpowHER, her work has been seen in publications internationally.
Sources:
Gum Disease and Women. American Academy of Periodontology. Accessed 16 July 2013 at:
http://www.perio.org/consumer/women.htm
" Oral Health and Preventive Dentistry. "Women's Health: Periodontitis and its Relation to Hormonal Changes, Adverse Pregnancy Outcomes and Osteoporosis" Krejci CB, Bissada NF. 2012;10(1):83-92. Abstract accessed 16 July 2013 at: http://www.ncbi.nlm.nih.gov/pubmed/22908092 and Case Western News release:
Gum disease joins hot flashes and PMS associated with women's hormones
http://blog.case.edu/think/2012/05/29/gum_disease_joins_hot_flashes_and_pms_associated_with_womenas_hormones
Periodontal Gum Disease: Causes, Symptoms and Treatment. National Institute of Dental and Craniofacial Surgery. Accessed 16 July 2013 at:
http://www.nidcr.nih.gov/OralHealth/Topics/GumDiseases/PeriodontalGumDisease.htm
Periodontitis: A risk factor to respiratory diseases. Rajiv Saini, Santosh Saini, and Sugandha Sharma. Lung India. 2010 Jul-Sep 27(3):189. Accessed Online at:
http://www.ncbi.nlm.nih.gov/pmc/articles/PMC2946730
Reviewed July 29, 2013
by Michele Blacksberg RN
Edited by Jody Smith