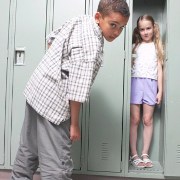 Photo: Getty Images
During the first two months of school, I spend time teaching lessons on respect, kindness, caring and teamwork. While there are also endless academic objectives to also teach, a classroom can't function without children of character. That is why I am always saddened when an episode of bullying rears its ugly head in my classroom.
I am sad because one child has experienced ridicule and ugliness from peers. But I am also filled with curiosity. What would make the bully, bully?
Thankfully, the parents of my past bully students have always been willing to help me change the child's behavior. They all seemed to understand that bullying is simply a bad behavior that won't help later in life when looking for a job, developing relationships, or finding happiness as an adult.
The young bullies I have known all matured into caring students because their parents were willing to investigate what was influencing the child's undesirable behavior.
According to the Education World website, there are four key reasons why a child would be angry enough inside to act as a bully. A child who witnesses or experiences teasing, yelling, name-calling, or physical mistreatment at home from a sibling or parent may begin to act that out in school.
In other cases, the bully may be experiencing severe stress or trauma at home like a death in the family or divorce. Sometimes, the bully is insecure and picking on a kid who appears weaker allows the bully to feel important or popular. Others decide to bully because they are not aware that it is wrong to tease others that look different due to race or ethnicity.
The Kids Health Website suggests that a parent can help a child stop bullying through compassionate and consistent parenting. Let your child know bully behavior is unacceptable and there will be consequences at school and home.
Be curious about what is causing such behavior and guide your child to appropriately handle feelings of anger, insecurity and frustration. If your child has a history of arguing, anger management difficulties, or defiance a behavioral health professional can also provide assistance.
Sources:
Education World. ABCs of Bully Prevention. Web. 5, Oct. 2011.
http://www.educationworld.com/a_curr/shore/shore072.shtml
Kids Health. Teaching Kids Not to Bully. Web. 5, Oct. 2011.
http://kidshealth.org/parent/emotions/behavior/no_bullying.html#
Reviewed October 6, 2011
by Michele Blacksberg RN
Edited by Jody Smith