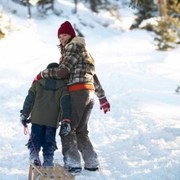 Photo: Getty Images
For families living in snowy climates, sled riding is a fun part of the winter season. Children look forward to a snow day away from school when they can head to the neighborhood's favorite hill with sleds and toboggans.
Sled riding with friends, while my dog ran alongside us, barking her head off, is still a favorite memory of mine from elementary school.
What none of us realized at the time was that sledding, while an enjoyable exercise, can also cause serious injury. The Children's Hospital of Pittsburgh estimates that emergency rooms see 45,000 sledding injuries each year.
Children's Hospital of Pittsburgh has offered sledding safety tips for parents to ensure kids have safe fun while avoiding sledding injuries. First, supervise young children while they are sled riding.
Next, parents can teach kids to keep their heads safe. Bike riding isn't the only activity that requires a helmet — children who are sledding should wear helmets, too. Since most children ride a sled head-first, many injuries are head and neck related.
CHP also recommended teaching children to roll off a sled they can't stop. When the sled gets to the bottom of the hill, your child can claim it.
The Center for Injury Research and Policy reported that sledding injuries happen when a child is thrown off a fast-moving sled or the sled slams into a stationary object. This can result in injuries ranging from cuts and bruises, to broken bones, to neck and head injuries.
As a result, CIRP recommended that children ride on a sled they can steer, rather than a toboggan, tube, or disc. Parents can teach their children to sled sitting up, feet first.
It can be a fun challenge for kids to learn to steer and stop the sled with feet. Children should also know to avoid sledding into a snow bank as it may be hiding a tree stump, fire hydrant, or other dangerous obstacle.
Kids dressed for the weather, adequately supervised, and riding on the right equipment will be ready for a nice cup of hot chocolate at the end of a sledding outing, rather than the emergency room.
Sources:
Children's Hospital of Pittsburgh. Sledding. Web. 24, Jan. 2012.
http://www.chp.edu/CHP/Sledding+for+Parents
Center for Injury Research and Policy. Sledding. Web. 24, Jan. 2012
http://injuryresearch.net/resources/1/FactSheets/SleddingFS.pdf
Reviewed January 26, 2012
by Michele Blacksberg RN
Edited by Jody Smith