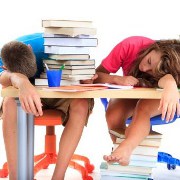 Photo: Getty Images
Our teenager never seemed to get enough sleep. I worried that his academic, extracurricular, and social schedule was just too full. Furthermore, it seemed that he was a grouch in the morning, but a bright-eyed night owl just as his dad and I were getting ready for bed.
In the mornings, when he banged around like Frankenstein's monster, I would gently suggest that he spend less time on the computer or phone and make more of an effort to get into bed at a "decent" hour.
As it turns out, Mother Nature is to blame for the night owl tendency in our teens. During adolescence, the teenage brain manufactures melatonin later at night.
This hormone resets the body's internal clock, known as circadian rhythm, making it more difficult to fall asleep. In fact, as melatonin resets the biological clock, teens not only want to go to sleep later, but also stay asleep later.
According to the National Sleep Foundation (NSF), parents can encourage a healthy sleep routine by helping their teen establish and maintain a consistent sleep schedule. NSF also recommends at least 8.5 hours of rest each night to help prevent low school performance, negative feelings, behavioral problems and even injury.
Thankfully, many high schools are developing later start times to accommodate the teenager's circadian rhythm. The NSF reports that schools which changed to a later start schedule saw improved mood and academic performance in their students. The students themselves reported feeling more alert and refreshed throughout the day.
The later start to the school day also has an impact on the safety of the teen driver. The American Academy of Sleep Medicine reports that an earlier start to the school day means an increase in the chance of a car crash with a sleepy teen behind the wheel, on his or her way to school.
If you have made an effort to promote healthy sleep habits with your child, and he or she still seems tired during the day, talk to your family doctor to rule out a more serious sleep issue.
Sources:
National Sleep Foundation. Sleep and Teens Report. Web. Sept. 26, 2011.
http://www.sleepfoundation.org/sites/default/files/sleep_and_teens_report1.pdf
American Academy of Sleep Medicine. Crash Rates May Be Higher for Teen Drivers Who Start School Earlier. Web. Sept. 26, 2011.
http://www.aasmnet.org/articles.aspx?id=2208
Reviewed September 27, 2011
by Michele Blackberg RN
Edited by Jody Smith