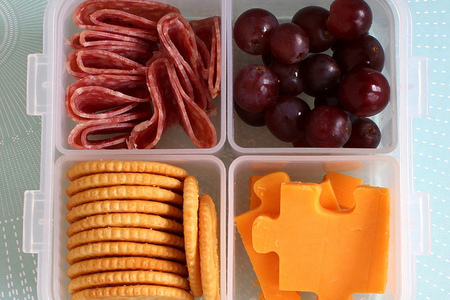 It's just about that time of year again. Summer is coming to a close and kids are getting ready to head back to school. Stuck on what to pack for school lunches this year? We've got you covered! Here are 10 healthy back-to-school lunch ideas that even your kids will love to eat.
1. Peanut Butter and Banana Wrap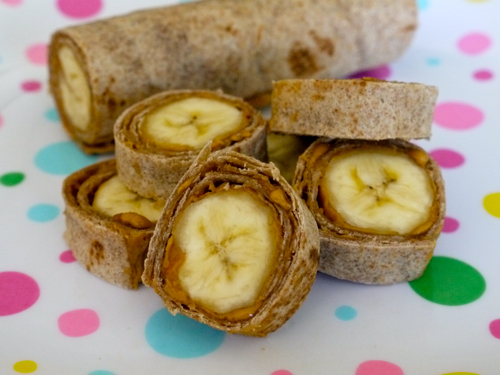 Via
weelicious.com
This wrap is super easy to throw together and has a healthy balance of carbs, protein and fruit. Spread fat-free peanut butter on a whole-wheat tortilla. Then slice up a banana, place the banana pieces on top of the peanut butter and roll up the tortilla. This works as a great after-school snack too! Get the recipe here.
2. Pizza Buns

Via Marcio Silva/PhotoSpin
These pizza buns might just be your kids' new favorite school lunch. Not only are these healthy, but you can also make a lot at once, and freeze for another day. Combine sugar, warm water, yeast, flour and salt to make your dough. Or you can buy a pre-made dough too. Spread your dough out into a large oval, and cover with pizza sauce, cheese and any other favorite pizza toppings. Roll the dough up longways, and slice into small rolls. Throw your pizza buns in the oven for about 30 minutes and serve. Get the recipe here.
3. Pita Pockets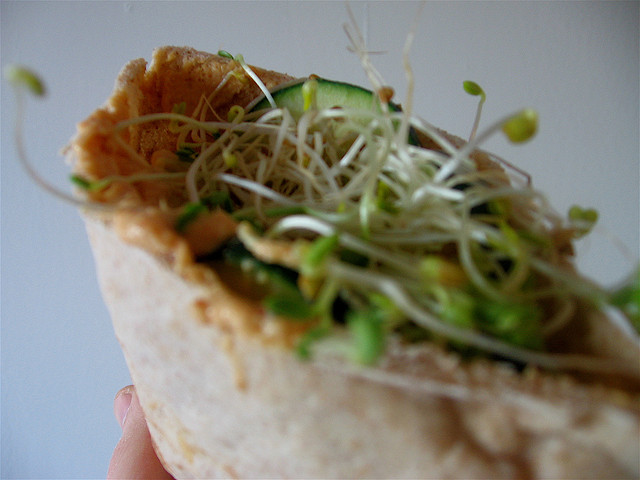 Via Daniel Means/Flickr
This is a great alternative to your basic sack lunch sandwich. Use whole wheat pitas and stuff with low-sodium meats, your kids' favorite cheese, and vegetables like lettuce, tomato and cucumber. For sides, try a healthy trail mix and fruit. Get the recipe here.
4. Cranberry Pecan Chicken Salad Sandwich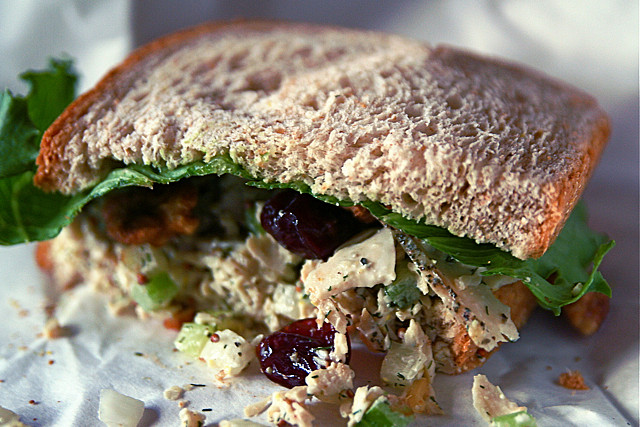 Via Steven Depolo/Flickr
Looking for a lunch idea with leftover chicken? This is a great option! Dice chicken into small cubes and mix with Greek yogurt, low-fat mayonnaise, rosemary sprigs and apple cider vinegar. Depending on you and your kids' preferences, add in extra ingredients like pecans, green apple slices and dried cranberries. Spread on whole-wheat or multigrain bread or pita and enjoy! Get the recipe here.
5. Corn Dog Muffins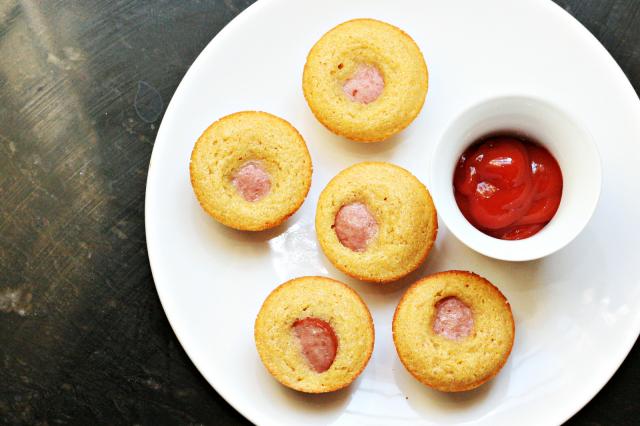 Via kae71463/Flickr
Corn dogs are always a hit with kids. Even better? This recipe is a healthier option to basic corn dogs. Combine flour, baking powder, sugar, cornmeal, baking soda and salt in a bowl, then add in buttermilk, egg and Greek yogurt. Mix in corn kernels, then scoop into a cupcake or muffin tin. Slice up hot dogs (about 1 inch) and stick in the middle of each muffin. These healthy corn dog muffins will be ready in less than 15 minutes and will be a hit at school. Get the recipe here.
6. Sweet and Savory Turkey Wraps

Via MonkeyBusiness Images/Flickr
If you're tired of making basic sandwiches between two slices of bread, try this creative option. Spread low-fat cream cheese on a whole-wheat tortilla, then top with low-sodium turkey meat. Top with cheese slices and veggies like carrots, cucumber, lettuce and bell pepper. This may seem weird for a sandwich, but add strawberry slices for sweet flavor and a fresh fruit serving. Roll up your tortilla and the wrap is ready to go! Get the recipe here.
7. DIY Lunchables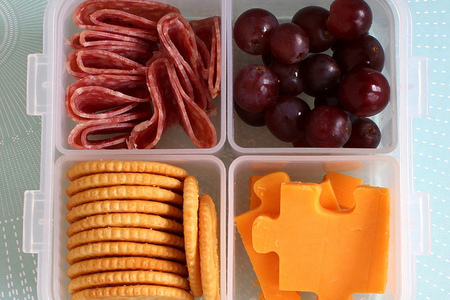 Via Melissa/Flickr
What kid doesn't like Lunchables? Kids love being able to build their own mini meal with these. For a healthier and cheaper option, try building your own Lunchables cheese and cracker pack. Put whole grain crackers, cheese slices and low-sodium turkey or ham slices in a Tupperware container. You can also include other healthy snacks like a mandarin orange, apple slices and yogurt-covered raisins. Your kids will have fun putting their lunch together, and you can choose your own healthy sides to include. Get the recipe here.
Did we miss any healthy back-to-school lunch recipes? Share your favorites with us!